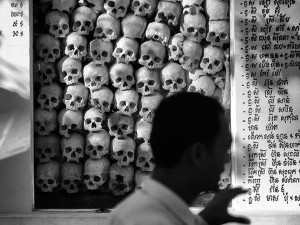 As expected the current 'PM' has not taken responsibility for his words but passed it on to the foreign ministry to provide rationalisations for comments which strain the ties with other countries.
Please see the post below on the Cambodian PM's comments on the matter.
Where is the principle on the matter of what was said about Vietnam's 'invasion' of Cambodia?
Mr Lee made a mistake in using the term 'invasion' and certainly did not expect the furore over it. He could not have due to apparent lack of empathy for the suffering and experiences of others.
Unless he would like to state (or get MFA to do so) that he did so as a 'matter of principle'–knowing that he was going to anger so many?
Was such a statement then calculatedly made for the sake of showing a 'matter of principle'? Seriously.
If so, when did he or other Singapore politicians last make claims about Vietnamese 'invasions', and what were the responses to them: in the last several years?
To claim that in 2019, a 'matter of principle' was made deliberately (or in passing?) about statements from 1978 against the beliefs and sensitivities of fellow ASEAN members today: sounds like mental decrepitude.
The fact that others in the Milquetoast administration have jumped on the bandwagon of a disastrous politician masquerading as 'PM' is not tantamount to proving anything.
It only shows that they have no honour and have sold their souls as the-price-is-right politicians that they truly are.
Mr Lee talks about "statesmanship and foresight": these are qualities he does not have and there is nothing of the sort in his hangers-on who mouth statements to gain his favour.
When will Singaporeans wake up to the fact that we have people in power who show no integrity, wisdom nor basic common sense?
We need to start voting in the right people.

Sanjay Perera
*Writer, and founding editor of Philosophers for Change. Original post: Facebook. Related posts: Where is the credibility? and Why we are criticised. For a collection of related posts: Kafkaville.
(Sources: Cambodian PM responses
Singapore committed to good ties with Vietnam and Cambodia
Singapore 'highly values' relations with Cambodia and Vietnam: MFA after PM Lee's remarks on 1978 invasion

[Picture: endgenocide.]
.
27 Responses to "Where is the principle in this?"