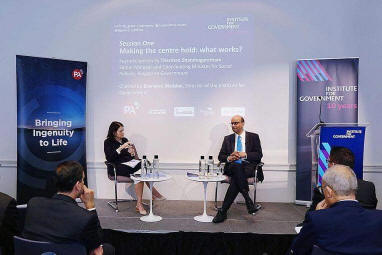 Tharman loves to talk about fighting inequality and ensuring social mobility at International forums. He was at it again in London yesterday when he addressed a British Think Tank – Institute For Government.
The reality is that for the past 2 decades, he has been part of a PAP government that was ranked by Oxfam in 2018 as one of the 10 bottom governments as far as its commitment to fighting inequality is concerned.
Despite helming the Finance Ministry for many years and being the Coordinating Mjnister since 2015 (and now Senior Minister) he has been part of a failed Lee Hsien Loong Government that has seen Singapore being rated as the 2nd most unequal society in the world (according to none other than Prof Tommy Koh), where 144,000 households or around 500,000 Singaporeans live in abject poverty and are unable to afford basic necessities in life; where 4 in 10 workers earn $2500 and less each month while the Prime Minister earns more than $183,000 in the same amount of time; where most seniors can not afford to retire, and where the average CPF monthly payout is only $355 when the minimum amount to survive on is at least $1379, according to a recent NUS Study.
What social mobility is Tharman referring to? Study after study shows that social mobility is most damaged in severely unequal societies of which Singapore ranks at the TOP. As we said in a recent post on inequality barely 2 days ago, going onto Tharman's social mobility escalator which he likes to use as an analogy for his point on social mobility is like stepping onto an escalator which is going down when you are trying to go up!
So don't be fooled by Tharman's glibness as a speaker. His words are a direct contrast to the actions of a government which he belongs to, whose economic policies in favouring the rich have made Singapore into a dangerously unequal society.
He may be an alumni of the hallowed London School Of Economics("LSE") which was founded by Sidney and Beatrice Webb in 1895, 2 founding members of the Fabian Society, which advocated strongly for social justice and a more equal society and who conceived of the LSE for the betterment of society; but the economic policies of Tharman and the PAP government of Lee Hsien Loong in the last 2 decades would have done FA Hayek, the founder of Neo-liberalism, and who lectured at the LSE in the 1930s before he moved to the University of Chicago and made it the bastion of the Neo-liberals(remember Milton Friedman?) very proud!
Sidney and Beatrice Webb would not have been proud.
Lim Tean
12 Responses to "Tharman's No Action Talk Only"