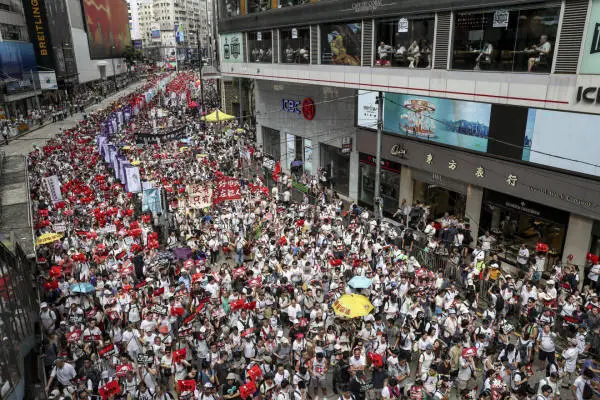 Over the past few days, the protests have escalated in Hong Kong that police now clashes with protestors resulting in damages and causalities. I have personally seen fake accounts and Internet Brigades from both China and Singapore in full force in social media criticizing the protests. It is so strange why IBs from Singapore are trying to interfere with foreign politics. The reason that I can conclude is that they want to continue to shape the thinking of Singaporeans that we should kow tow to all demands and changes from our government. Singapore resembles China a lot, there is one dominant party that wields absolute power in all the decision makings and also one perpetual supreme leader in leading the country. On freedom and expression, both countries curbed public either with surveillance, Great Firewall and all sort of laws and regulations to restrict freedom to express and to criticize.
However, the British system had educated Hong Kong people to embrace true democracy values. Over the years, China has imported millions of China bornt into Hong Kong but from this protest, it shows that the dilution of population has not impacted much. More than one million people protested, the protests have not stopped and further escalated. Watching the videos and news on the protest, one conclusion is to be made that people in Hong Kong values freedom over fear, they believe if they accept the bill now, they will forever lose their freedom. More than 3000 lawyers protested, civil servants, teachers, professionals and even students. We also believe some of the violence were actually fabricated to give authorities the reason to suppress with force. There are many instances where Pro-Beijing folks who tried to intimidate or used force on these protestors were let go by the non uniform police. This shows the country's law enforcement tilts or bend towards Beijing. Lam is labelled a hypocrite and tearing like a croc on TV to justify the continue push for the extradition bill.
What we learn from the protest. Singapore system has successfully nurtured a system of sheep. The country has imposed many laws to curb freedom and freedom of expression and now even one man is considered illegal assembly. All sort of new laws have been enacted to suppress freedom and Singaporeans just accept them as it is. In the case of Hong Kong, they are willing to fight for their freedom. Many IBs have use the same government's mantra or rhetoric that protests will kill the economy or violence is not the way. But this is beside the point, Singaporeans should learn from Hong Kong, we can protest at Hong Lim Park and if we do not protest, we could send a protest vote against government in the election. So Singaporeans nurtured like sheep for slaughter has no courage, too fearful and always full of excuse. I suggest you watch the interviews on some of the protestors which gave meaningful reasons. One protestor who is studying law in the university said if they do not do anything, they will forever lose everything and their future generation will suffer. This strikes me hard, our government is screwing us so hard and our next generation already affected by their policies and yet Singaporeans chose to vote them overwhelming last GE.
Singapore is behaving like China, where on earth you find sponsored IBs lurking on social media negativing complaints and criticisms. You have fake social medias pretending to be neutral and shaping the thinking of naive Singaporeans. In a true democracy, it should be a free market where people can take part, discuss and agree. We have somewhat become China where everything is top down and the top lives in the ivory tower dishing out orders and instructions. Remember Singaporeans are highly educated and know how to differentiate things than to be spoon fed. However to keep Singaporeans stupid, Singaporeans are told not to study for degrees and importing millions of foreigners to replace local core and relegating true blue Singaporeans to lower realms so that Singaporeans are led by pro-white supporters.
I suggest Singaporeans watch the video and interviews and wake up. Freedom is not free, you need to fight for it. By absorbing all the nonsense from the top is not way for you and future generation. We need to voice out and be heard in the coming election. Be brave like these protestors and do not be persuaded by the IBs, the excuses and the fear. To lead a better life, the power is in your hand and vote.
VTO 2019 against the dishonourables…..!!! Viva!
Amy Katherine Tan
25 Responses to "The Price Of Freedom"
Leave a Reply
Scroll Down For More Interesting Stuff