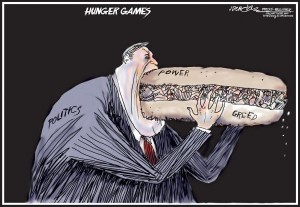 The 'PM' wannabe Mr Heng (who else?) has started his sales pitch and he is confident that there are enough gullible people to give him, and the elites the votes they need to continue the capture and manipulation of the state and its apparatus.
Unfortunately, he may not be all that wrong. When exposed to mainstream media brainwashing for years it is difficult for people to see through the veil of deceit drawn across their eyes, ears, and minds.
Some of his sales talk:
"First, winning and retaining the trust of Singaporeans remained the essence of government. And second, explaining the trade-offs and challenges we faced, and telling people the truth remained the essence of political leadership – even on difficult matters like population or tax or HDB leases.
I believe that trust between the people and the Government is absolutely essential. And the best way to win your trust is to first trust you with the truth – no matter how hard or unpopular."
What 'trust' is he talking about? Has he addressed the issue of why the Dishonourables are still holding (and will continue to cling onto) key appointments?
Has he addressed the issue of why people are unable to withdraw their CPF money as was promised years ago, and that the age at which it can be utilised by people according to their wishes is such that they may be able to do so only in the after-life (the elites must assume it is possible which is rather disturbing)?
Many sadly believe that they have been nationally hoodwinked on the CPF withdrawal age–these are citizens who trusted the ruling party's promises/guarantees.
Has he spoken of why he wholeheartedly supports the disgraceful Fake News laws?
He waxes lyrical with:
"A contestation of views and ideas is good for Singapore. But it can also divide us. Singaporeans can end up living in self-enclosed silos on social media, perpetuating their own versions of reality in narrow echo chambers."
Has Mr Heng, who clearly has an inability to control what comes out of his mouth like Mr Milquetoast (current 'PM'), asked the ruling class' supporters not to rant and rave against those who criticised his boss for his bizarre comments that upset neighbouring states and their citizens, recently?
Is Mr Heng even vaguely aware of the fact that the ruling party, and the mainstream media, are his and the ruling class' echo chambers? Their much larger and cavernous echo chambers are as vacuous as they are reflective of the Hollow Men that 'lead' Singapore.
Meanwhile, we need to uncover what is in our political Underland.
How long will we allow a group of elites to control the country, and keep us from the natural biodiversity we need in our national and political environment?
We must allow our democratic wishes and intentions to be represented fully in parliament: not be hijacked by monolithic clones.
We need different people, alternative parties, voices, thoughts, and most of all men and women of integrity and courage to be in parliament.
For how long will we accept that certain peoples' salaries and assets are state secrets?
What else needs to come to light so we know for how long we have been deceived over so many things?
For how long will we accept the deception being perpetrated that the ruling class is willing to listen and work with people? Seriously. The only motivation they seem to have is to maintain their power.
Their fear is that when good people are voted in from alternative parties they will show up the meritocrats for the type of people they are truly: vindictive, full of self-praise, and deaf to what the people say.
Time to stop being naive, and do what is right when the time comes.
"'Underland: A Deep Time Journey' is an epic exploration and examination of darkness and the caverns underground that have captured our imaginations, pulled us downward, housed our dead and allowed us to bury our most violent secrets. It is also a descent into the beauty where dark wisdom is located."
"What does it mean to be human at a time when we're struggling with the nature of our humanity, when the world as we thought we knew it is fluid and not fixed? 'Underland' is a portal of light in dark times."

Sanjay Perera
*Writer, and founding editor of Philosophers for Change. First posted at: Facebook; related post: What lies beneath.  For a collection of related posts: Kafkaville.
(Sources: DPM Heng Swee Keat at the "Building Our Future Singapore Together"
The Unseen Worlds Beneath Us.)
36 Responses to "Beware of power-hungry snake-oil salesmen"
Leave a Reply
Scroll Down For More Interesting Stuff