On a 
Facebook post on Monday
 (17 Jun), opposition leader Lim Tean called the Merdeka Package a "total sham" and a "classic case of giving you a chicken wing but taking the whole chicken back from you".
This was because the "yearly declining transitional premium subsidies will end" this year. So, although the Merdeka Package offers a 5% subsidy on Medishield Life premiums, elderly Singaporeans will still end up paying more on their Medishield Life premiums.
Although it was once optional, Medishield Life was made compulsory back in 2015. The decision to make it compulsory was widely criticised, as it does not covering chronic diseases such as diabetes.
Nonetheless, it was still made compulsory with the PAP government giving a subsidy amounting to 90% of the net increase in MediShield Life premiums in the 1st year (i.e. 2015). In 2016, 2017 and 2018 respectively, the subsidy would only cover 70%, 40% and 20% respectively.
The controversy does not appear to have died down 4 years later with financial blogger Leong Sze Hian estimating last year the payout to premiums ratio was at a mere 59%. This, he thinks, is possibly the lowest in the World for a national healthcare insurance scheme.
Indeed, in a report that went viral earlier this year, netizens were furious that Medishield Life paid only $4.50 of 82 year-old Seow Yan Ban's $4,477 surgery to unblock the flow of his tears.  The outrage eventually led to claims being reviewed.
Does the Merdeka Package make things any better? et's use the Medishield Life premium calculator to illustrate this point.
For a Singaporean who was born in 1958, owning a single property with an Annual Value of $18,000 and a per capita household income of $1,500, he would be paying a premium of $367 in 2015/6 after the 90% government subsidy. By 2019/20, his annual premiums would increase by 85% to $642.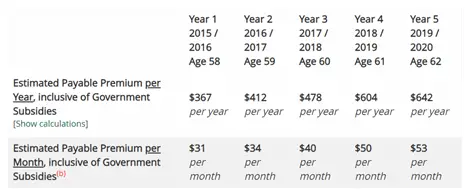 Given that the Merdeka Generation seniors will receive 5% of their premiums and $200 a year in MediSave top-ups (which can be used to pay for their MediShield Life premiums), he would effectively end up paying $410 a year on his Medisave Life Premiums (0.95 x $642 minus $200).
This is ultimately still a large sum to pay for elderly man who hails from the working class and is 11% more than what he would have paid during the last election.
Do you agree with Lim Tean?
37 Responses to "Merdeka Package is giving you a wing and taking back the whole chicken"
Leave a Reply
Scroll Down For More Interesting Stuff