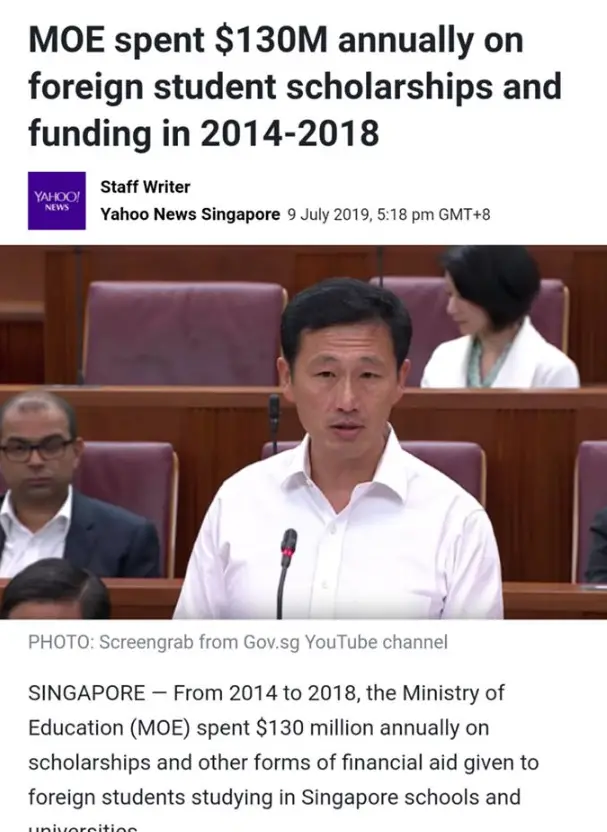 According to a Parliamentary reply given by Minister for Education Ong Ke Yung to Worker's Party NCMP Leon Perera on Monday (8 Jul), the Ministry of Education spends around $130 million – or 1% of its budget – to foreign students in Singapore annually.
Minister Ong said that the government does "give out a small number of scholarships for international students in our schools and Autonomous Universities". The spending comes up to "around $130 million a year, which is 1% of MOE's annual budget of $13 billion."
He added that the academic performance of these students are "closely monitored every semester, and the scholarship would be withdrawn if the scholar's performance is not satisfactory". Additionally, such students are "obliged to work in a Singapore entity for up to six years after graduation".
Whilst foreign students are benefitting from the MOE's generosity, a great deal of Singaporeans appear to be suffering in an unseen side of Singapore.
For the financial year lasting Apr 2017 to Mar 2018, the PAP government distributed approximately the same amount (i.e. $131 million) to 79,500 poor families in the form of ComCare, which is a form of long-term assistance given to destitute families in Singapore.
One such recipient is 37-year-old Madam R, a divorcee with four children aged 11 to 19. The family lives in her mother's two-room rental flat, which was found to be badly infested by bedbugs. Due to such living conditions, the family could not rest properly and this affected the children's performance in school and at work.
What do you think?
33 Responses to "$130 million spent a year on the education of foreign students in Singapore"