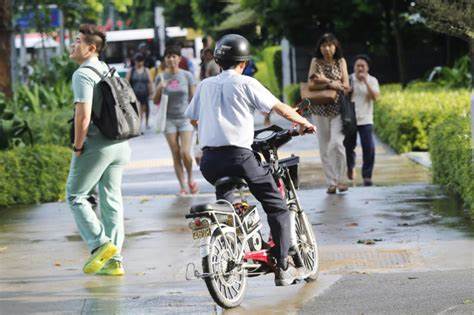 I welcome the decision to ban e-scooters from all footpaths from 5 November 2019.
Calls to the government to ban PMDs from our roads were loud, numerous and often enough but the government has until recently being slow to act at best and oblivious to the clear and present dangers that irresponsible riding and speeding PMDs pose to other road users at worse.
To any observers of everyday life in Singapore, it is reasonable to conclude that this decision to ban e-scooters from our footpaths is taken more as a result of public anger and pressure rather than from the angle of a competent leadership decision. Its decision is reactive rather than pro-active and this, to me, is another hallmark of incompetent political leadership.
To me, whether it is the slow decision at banning PMDs from our roads or many of our retirees' facing retirement inadequacies and are forced to "exercise" in their old age or the high selling prices of public flats or the very sorry state of our total fertility rates or the failure of the government to honour it own promise to return to CPF members their CPF savings when they turn 55 years of age, or those many sleeping pap mps in Parliament or the depressed wages that many of our workers face or the incessant increase in the cost of living etc, they all point to one very clear sign and that is Weak Political Leadership! That is right. The weak political leadership that we currently have. Whether people like it or not or are willing to be honest with themselves or not, the best days of the pap government are over. Think.
Simon Lim
22 Responses to "Banning of e-scooters"
Leave a Reply
Scroll Down For More Interesting Stuff