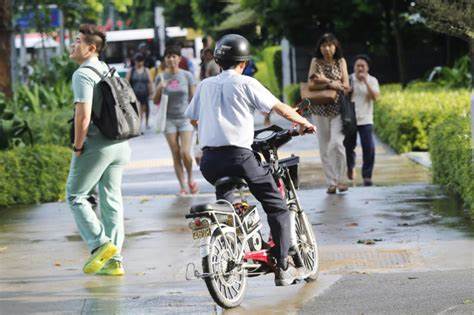 1) In view of the unprecedented social uproar on the ban of E-Scooters from footpath which has become very divisive socially, People's Power Party see the need to present our Policy Views and Proposal of Solutions to resolve this issue as soon as possible.
2) First, we must recognize that PMD will be a valuable technological trend which will contribute to the efficiency and diversity in our modern daily mobility needs. This is especially so when Singapore is a city state whereby short distance travel could be supplemented by the use of PMD which will be cleaner, more efficient and effective.
3) Thus a Total Permanent Ban on the use of PMD in our city would be not be a good move for our city state.
4) We must also recognize the fact that there are a number of incidents involving PMDs or E-scooters which created injuries and at times, unfortunate fatal ones.
5) However, we feel that such incidents could be eradicated or minimize greatly if a proper Ecosystem for PMD usage is created, which will include proper infrastructure with signage, training programs and regulations.
6) It is the Government's responsibility to set up a proper Ecosystem for PMD. Proper infrastructure of pathway specifically for PMDs should be built in residential estates which will have higher competing usage from residents/pedestrians and PMD users. These should include proper signage to guide PMD users with speed limits and dismount points at cross junctions etc.
7) A proper licensing system which include training sessions should be created for PMD users. We note that many cyclists and PMD users do not have basic knowledge of road usage. They should be empowered with such knowledge and training.
8) An age limit, preferably set at 16 years old, should be implemented.
9) A demerit point system similar to drivers of vehicles should be implemented as well.
10) Regulation on the types of PMDs on sale in Singapore should be implemented, just like motor vehicles.
11) For the interim, a temporary ban of usage of footpath could be implemented on non-food-delivery users until the whole proper Ecosystem is set up proper.
10) For food-delivery PMD users, instead of working with the food delivery service companies to push their workers to use electric-bicycles which will create even more dangerous problems to them as well as drivers on the road, the government should set up training workshop and proper licensing and regulatory system with this group of users. After attending proper training workshop, they should be licensed and allowed to use the footpath for their daily work.
11) Other private users who wish to be licensed to use the footpath, should be allowed to attend the training workshop as well.
12) We need to create properly trained users and whole Ecosystem instead of putting a blanket ban on potentially beneficial use of technology in our daily lives.
13) We would urge the PAP government to divert that $7 million grant to food delivery PMD users which solve nothing but create more dangerous problem into building up the whole Ecosystem for PMD usage. Start with the Accredited Training Workshop for a start.
14) More money should be invested into the infrastructure, focusing on HDB housing estates for a start.
We believe that this is only effective and beneficial way forward for Singapore. We are here to SOLVE problems, not BAN problems.
Goh Meng Seng
Secretary General
on Behalf of People's Power Party
18 Responses to "PPP: Policy Views on Use of Personal Mobile Devices (PMD)"