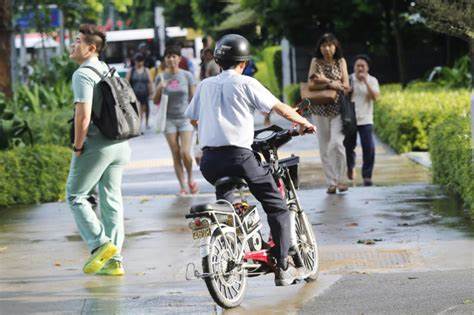 I saw a small thin girl riding a PMD on a pavement in Kallang Road. She was wearing a light raincoat as it was drizzling. She entered into a food court.
Later, I saw her at the traffic junction waiting to cross the road. I asked her if she was doing food delivery.
She replied with a little fear – "Why you ask? Is there anything wrong?"
When the light changed, she crossed the road and rode on the footpath, but rather slowly.
She looked like a school girl but she could be older. But she was thin. And she probably need to make a living by delivering food.
I find the ban on PMDs using the footpaths to be a bad decision. I have seen many PMD riders, including food delivery riders, use the footpaths in a responsible manner. They now have to suffer the consequences of the ban.
I am aware that there are irresponsible riders who speed with PMDs on the footpaths, causing danger to pedestrians. I prefer that these irresponsible riders be charged for speeding and, if convicted, be banned from riding PMDs.
I do not agree on a total ban that has affected the livelihood of the food delivery riders, and also commuters who need the PMDs to get to the bus stop, train station or place of work, or to bring their children to school.
Let us make our footpaths safe for all users, by restricting the speed and enforce the speed limit. Let the footpaths be shared by the various users, and encourage all users to act responsibly.
I ask for the ban to be shelved, while a better solution be worked out.
Tan Kin Lian
24 Responses to "PMD riders need to deliver food to make a living"
Leave a Reply
Scroll Down For More Interesting Stuff