Although cases have increased again in recent days, UK felt confident enough to ease the lockdown measures because death rate has reduced and remain low for pass couple of months.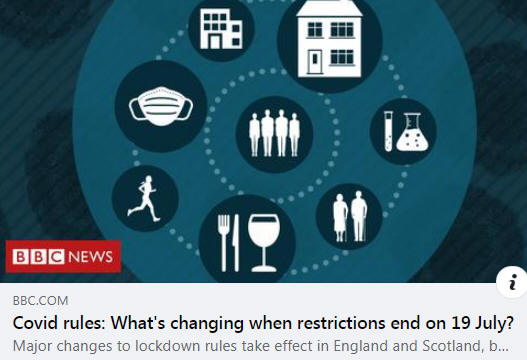 This may be due to seasonal factors as the graph of daily deaths from Covid19 suggest. Death numbers may pick up in October when weather starts to turn colder. It may also due to high vaccination rate but we will only know which factor really counts when winter comes.
It is actually unusual for infection cases to rise during summer time right now as infection cases in May to Sept 2020 were subsiding to pretty low level, most probably due to hotter weather. This is especially so when UK has achieved high vaccination rate right now with lockdown measures in place!
They are blaming the known variants but that may not be the only main factor.
Death rate now stands at 2.4% but I would expect it to drop when there is a rise in infections while death numbers remain low.
It is a very bold move of Boris Johnson to ease lockdown rules while infection cases are rising again, though death numbers remain relatively low. I guess Britain is determined to turn this Covid19 into an endemic.
Most importantly, UK has commissioned a study of using Ivermectin for Covid19 treatment since June 2021. They are also exploring other readily available drugs for outpatient treatment as well.
It seems that UK government knows exactly what direction they are heading to and they have installed all the necessary plans to turn this Covid19 into endemic.
Even their easing rules make more sense than PAP's Kuku rules.
In contrast, we have a bunch of overpaid headless chickens running around in SG trying to run the show in such a clueless manner.
Goh Meng Seng
39 Responses to "UK decided to treat the Covid-19 as endemic"