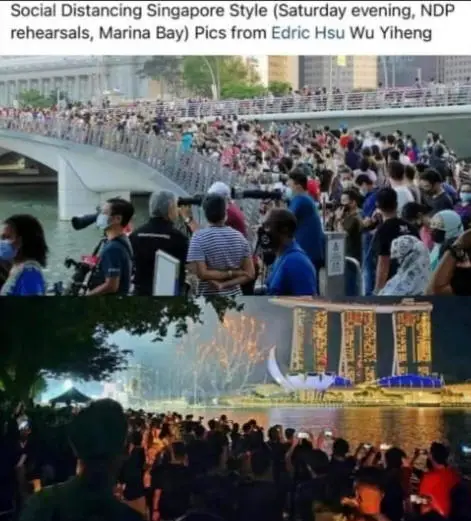 When news broke that our community infections escalated from 92 cases yesterday to 163 cases today, it is exceedingly clear that the current political "leaders" entrusted to steer Singapore out of the prevailing pandemic are truly incompetent to be entrusted with this responsibility.
The current wave of infection is not their first mistake and is probably not going to be their last unless they start adopting a more comprehensive and decisive approach in the containment of the virus.
4 Major Waves Of Outbreaks:
When the pandemic first broke in early 2020, the 4G PAP politicians in charge make their first mistake by following the "casual" approach of the Trump's Administration, in thinking that the pandemic will blow over by itself, instead of evaluating why China did the oppose by imposing immediate lockdown.
Then came the outbreak in our foreign worker's dormitories as Singapore allows passengers from South Asia to return while the various authorities were forced to address the many unresolved shortcomings at these dormitories, such as overcrowding, poor ventilation, poor hygiene and the lack of a robust Emergency Planning & Recovery protocol.
In their eagerness to return to "business-as-usual" while the pandemic continues to evolve and mutates into new and more deadly variants, the "uncalibrated" opening of Changi Airport to visitors from high-risk countries lead to another wave of outbreak despite endless calls by concerned Singaporeans to be safe than sorry.
Is there no expert in the MTF to be advising them that even a prostitute will know when to close their legs?
This mistake allows more deadly variants, like the Delta B1.617.2 variant, to enter into our country and create new challenges as vaccinated individuals got reinfected by these new variants.
It is natural for those who are not vaccinated to question the efficacy and safety of the current approved vaccinations, and further question as to why is our government is not providing sufficient and timely information to quell their valid concerns, factually and objectively, instead of stubbornly pushing for more to be vaccinated.
Should Singaporeans Be Concerned?
To put the 163 community cases in Singapore into regional perspective, that will extrapolate to a daily infection equivalent of more than 40,500 in China and India, more than 7,800 cases in Indonesia or more than 900 cases in Malaysia.
If we can be alarmed by such high numbers of infections in our neighbouring countries, why then aren't we alarmed by the latest wave of infection?
The current outbreaks at Jurong Fishery Port, wet markets and hawker centre are now being attributed to the KTV cluster.
It is matter of time that the various new outbreaks at our schools and other clusters be attributed to this same cluster.
For the MTF to announced on last Friday that they will be imposing tigher measures at our hawker centres, coffeeshops and other F&B outlets 3 days later, which was yesterday, there can be no greater stupidity than this.
Think about it.
In the lapse of 3 days, and if these places are indeed at high risk of propagating the infection, then the real damage would have already been done by the virus.
Are there no military experts or generals in the MTF to advise them on the arts of war?
More Inconsistencies:
Why are there no new measures for our MRT, buses, taxis, PHVs, delivery workers etc despite a rise in community infections?
Why are there so many Inconsistencies in where and how safety measures are being implemented?
This means that our community infections can only grow exponentially in the coming days, putting more Singaporeans and frontliners at risk, vaccinated or not vaccinated.
So why don't the MTF go for a full lockdown to decisively contain this wave of outbreaks?
Could it be that because we are 20 days away from our National Day celebration and no one in the taskforce have the courage to tell the Prime Minister that he has to scale down on his grand plan?
Many concerned Singaporeans have already been circulating images of overcrowding at hotspots during the National Day's rehearsals but why aren't anyone in the MTF showing concern for the participants and those crowding to watch the rehearsals?
If the National Day celebration is to proceed as planned, where only our frontline workers are invited exclusively, then who is going to keep our hospitals and other essential services functioning should they get infected or reinfected?
Or could it be that the MTF is unwilling to procure for more financial support needed to activate a lockdown?
Their silence and Inconsistencies that raised these critical questions is yet another clear indication that those shortlisted by PM Lee to succeed him as the next Prime Minister may have serious character flaws and lack the courage to do what a real leader would do in a crisis – that is to put the interests of Singaporeans first by having the courage to act decisively without fear of personal cost to their political career.
Is this why DPM Heng Swee Kiat gave up his chance of being the next Prime Minister by being brave and sincere in fighting for substantive financial supports for Singaporeans?
Is this why there has been no new financial support for Singaporeans after he step down as Finance Minister?
True or not, the incompetency of the MTF and those in the cabinets will be remembered vividly by voters at the next General Election.
Who can the PAP use then to procure the trusts of the swing voters now than Heng has stepped aside?
If there is one good thing about this pandemic, it has to be that the 4G PAP politicians in charge are exposed for their incompetency and insincerity, and have failed miserably at their first test.
The troubling part is that if those shortlisted 4G PAP politicians and the many paper-generals who are holding key portfolios can be defeated by an almost innocuous virus, then how are we going to survive as a nation should a real-deadly virus or biological event is to strike Singapore in the foreseeable future?
I guess those swing voters in the Middle Ground should start looking at the consequences of their votes in GE2020 and decide if Singapore and Singaporeans truly deserve better…
Joseph Nathan
25 Responses to "Covid-19 pandemic has exposed the 4G politicians' incompetency and insincerity"