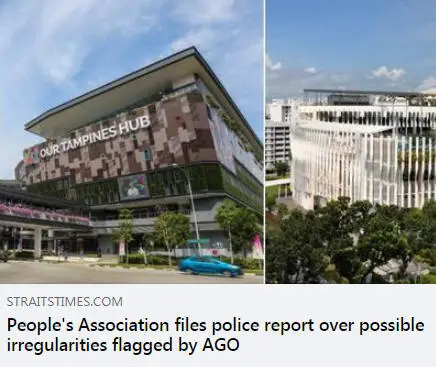 Year in and year out, we kept seeing the same ministries and public agencies squandering away public monies, as if the findings and recommendations from the AGO does not matter.
When we start adding the increase in their blunders and mismanagement of public policies, it is clear that public accountability is sorely lacking.
The collective commitment of the first generation of PAP politicians and patriotic Singaporeans had transformed Singapore from a Third World to a First World economy.
Yes, our collective effort and dedication in Nation Building was instrumental to our success.
The current 4G PAP politicians inherited a functioning economy, flushed with financial reserves and demanded that they be paid the world's highest remunerations and benefits.
So why are we being "punished" by their lack of financial prudency, blunders and missteps?
The key reason has to be politics.
In their zeal to retain power and control, l guess the politics of the current 4G PAP has become toxic and self-destructive.
When any political appointee or public servant makes a blunder during LKY's time, you can be sure that they will be fired.
This was to set a clear message that public service is not a game of cards but concerns our lives.
Unfortunately with the current 4G PAP, they are obviously struggling to find credible and competent candidates to join them.
So what happens?
Money politics became the new norms.
What is sad about this is that it only attracts "mediocres" and suddenly, we start seeing so many new portfolios for the position of Minister of State.
What exactly is Minister of State?
It is the equivalent of Management Trainee but with indecent remunerations and benefits.
When they make a blunder, they still get promoted or get shifted into another ministry until public anger has subsided.
In short, the current predicaments of the PAP is the result of its own desperation to hold on to power at all cost.
What this means is that the politics of the PAP will naturally get prioritised over the well-being of our country and those of Singaporeans.
As their politics become more pervasive, we have to empathise with dedicated public servants who got sandwiched between the party politics of the PAP and their sincere dedication to public service.
What happens next will be a drastic drop in the Service Quality of our public institutions, public policies that no longer make any sense and the horrendous execution of policies or compliance to protocols.
Why?
Public servants look to their superiors for mentorship and guidance.
If there is no leadership or when political appointees are clueless, the whole organisation will be in disarray.
In the case of the current 4G PAP, this malice has become so pervasive that literally, almost most of our public institutions are in disarray.
It does not help when the current Permanent Secretaries of our ministries are no longer of the calibre of our first and second generations of Permanent Secretaries, who were courageous in protecting their ministries from excessive influence of politics.
As the rot starts from the head, it is no surprise that all the findings and recommendations by the AGO will fall on deaf ears since public accountability has taken a back seat for many years.
More troubling is that even our GLCs are starting to become mediocre despite all the concessionary advantages.
Even LKY-loyalists, grassroots leaders and volunteers, and former public servants, are getting alarmed by how pervasive politics has become and are getting concerned that if nothing is done to restraint the politics of the 4G PAP, then Singapore will become more divided and risks degenerating from a Functioning Economy to a Dysfunctioning Economy of Asia.
Until PM Lee realise this danger and accept the Hard Truth that many Singaporeans are not against him or the PAP per se but the mediocrity of several of his 4G politicians and start firing a few to show his sincerity in putting the interests of Singapore first, he can expect more Singaporeans to switch their allegiance to the Alternative Government that is already taking roots.
Against a changing political tide, all is still not lost for Lee or the PAP if only they can accept the Hard Truth that the majority of Singaporeans want sincere and competent leaders who value the importance of public accountability and take their public offices seriously.
Lee knows well that DPM Heng Swee Keat is much more sincere and credible in putting Singapore and Singaporeans first than many of his shortlisted candidates to succeed him.
By himself, Heng obviously cannot tame the internal politicking within the PAP and the cronies of his adversaries in key public institutions unless Lee gave him absolute power to effect real change that Singaporeans truly aspire.
So why is he not appreciating the fact that the bird in hand, in Heng, is worth more than the two in the bush?
Are there no wise and courageous advisors left to explain this reality to him?
Until Lee starts getting to be more decisive and consistent in putting Singapore and Singaporeans first, then even the latest findings and recommendations from the AGO will go to waste and filing of police reports will not stop the rot.
Hope Lee still believes that Singaporeans deserve better…
Joseph Nathan
13 Responses to "Is the politics of the current PAP destroying our public institutions?"