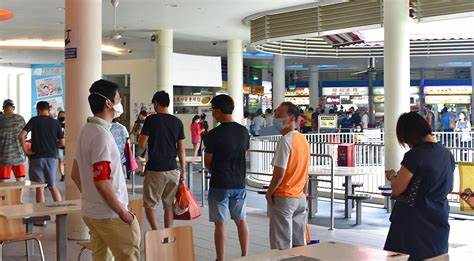 "While the promise of easier travel for the vaccinated sparked jubilation in Singapore, the question remains if its leaders will actually take what will be a leap of faith for a nation where even one locally-transmitted Covid case makes the front page.
To do that, it's trying to snuff out an outbreak driven by the delta variant and reach a vaccination level — 80% — that few countries have achieved, but which the government says will put Singapore in a position where it can live with the virus without carnage.
They earlier pledged to begin easing restrictions once half the population was vaccinated; that milestone came and went on July 19.
"At this stage, given the multitude of public statements on the vaccination coverage, the government has not really given themselves much room to manoeuvre," said Nydia Ngiow, Singapore-based senior director at BowerGroupAsia, a strategic policy advisory firm.
They need to put their money where their mouth is and make the steps towards an endemic Covid-19 once we hit the 80% threshold, or risk being held accountable."
Singapore's hesitation in opening up, despite vaccination levels that would be the envy of much of the world, reflects the conundrum its traditionally cautious leaders find themselves in.
The rise of the delta variant and evidence that vaccinations may offer less protection against infection by new strains led officials to question the safety of their earlier plans.
If Singapore pulls off its pivot, it'll provide a template for Covid Zero places that include mainland China, Australia, New Zealand and Hong Kong, to rejoin the world. Yet it also risks becoming a cautionary tale.
"Will there be deaths? Yes. Is there a threshold that will cause the government to waver? There should be one if the government is sensible," said Jeremy Lim, associate professor at the Saw Swee Hock School of Public Health at the National University of Singapore.
If new variants of concern emerge, particularly any that are more dangerous than the delta strain, or if hospitalizations and deaths far exceed anticipated numbers, then dialing back the reopening plan "would not only be technically correct, but also morally an imperative," he said.
"No country has demonstrated that it has sufficiently high levels of immunization so that the virus cannot replicate enough to survive in the community in circulation," said Harvey Fineberg, a former dean of the Harvard School of Public Health and ex-president of the US National Academy of Medicine.
"The more transmissible the virus becomes, the harder it is to achieve that level of community protection, because the highly transmissible virus is better able to find someone that it can infect and then infect yet another."
The point of regret and reversal could come faster than expected, as the most recent spate of infections show how gun-shy the Singapore government can be.
A series of linked clusters found at a fishery port and karaoke lounges resulted in local cases reaching a record high.
The outbreaks were an opportunity for Singapore to move beyond its "Covid Zero" approach.
But Singapore blinked. Instead of sticking with its reopening plan, the rising number of cases that had spread into wet markets frequented by locals, particularly the elderly, prompted the government to re-impose restrictions lifted just four days earlier, such as banning dining-in.
For now, government leaders say they're unlikely to stray from the course again after the current clusters come under control. Among average citizens, there's growing frustration over the slow walk.
Roy Ngerng
17 Responses to "They need to put their money where their mouth is"
Leave a Reply
Scroll Down For More Interesting Stuff