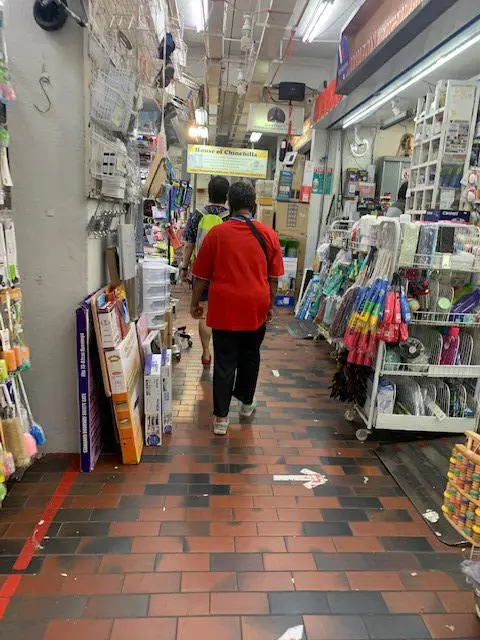 With the recent rampant outbreak of Covid community cases in schools, HDB estates, KTV and fish markets, the Govt Task Force needs to review and focus on social distancing guidelines.
There are many hotspots in my neighbourhood in Serangoon North Av1. As residents do their daily chores of purchasing groceries at the shops, social distancing efforts and enforcement need to be enhanced.
My neighbourhood may become another Covid hotspot if nothing is done to provide more walking spaces for shoppers at wet markets and shops, to minimise close proximity among shoppers and to prevent community spread.
NTUC FairPrice supermarket is completely filled with goods everywhere, overflowing into walkways, both inside and outside the store. Shoppers are at shoulder-to-shoulder length while shopping.
Just outside the supermarket, there is a cake shop and home appliances store. Both of them are occupying and blocking the walk spaces and pavements with their goods on display.
Surprisingly, these 2 shops occupy more areas outside than the actual size of their shop itself.
Social distancing is a huge problem as the place is always bustling with shoppers, with very little space left to walk. Two of the shops have built structures and had layout huge canvas, eating into public common areas.
This is totally unacceptable. Unfortunately these shopkeepers have gone overboard, with indiscriminate stacking and display of goods, compromising fire safety standards as well.
Wondering who had approved permits to allow these shop owners to use public areas outside their shops – Was it HDB, Aljunied Town Council, North East CDC, Aljunied PAP Grassroots Committee or Resident Committee?
Residents will welcome any action by the relevant Authority to minimse community spread in this neighbourhood by clearing up the public areas to give more space for shoppers to practice social distancing, thus preventing any potential community spread.
Hope, our Covid Multi Ministry Task Force (MTF) will investigate similar situations in all HDB estates.
Be safe than sorry.
Hope residents from other estates speak up if their neighbourhoods are at such risks as well.
Concerned Resident
25 Responses to "Social Distancing challenges at HDB neighborhood"
Leave a Reply
Scroll Down For More Interesting Stuff