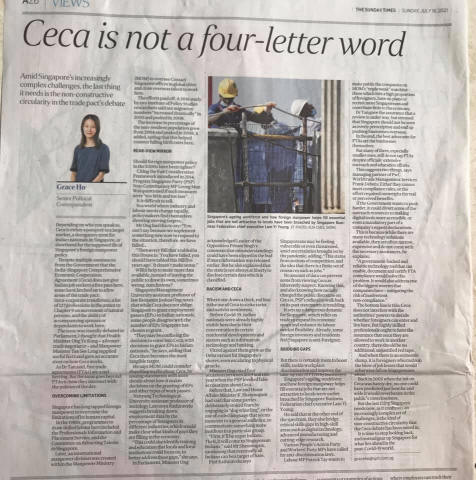 The Straits Times article  "CECA is not a four-letter word" (18 Jul 2021) by Senior Political Correspondent Ms Grace Ho is a great display of allegiance to the government's standard narrative on the wonders of FTAs in expanding Singapore's economic space and creating good jobs for Singaporeans.
Her article wasn't much different from previous ST articles by ST writer Ravi Velloor, renowned academics, Kishore Mahbubani and Prof Tommy Koh. Tommy Koh even applauded CECA for bringing many benefits to Singapore and India as "India is a talent surplus country and Singapore is a talent deficit country."
I believe this is how the government aims to condition the Singaporean mindset to accept FTAs and CECA for our own good. Hence, Grace Ho's caution: "Amid Singapore's increasingly complex challenges, the last thing it needs is the non-constructive circularity in the trade pacts' debate."
It is not surprising that her article adds no value to the national debate on FTAs and CECA. If this is the way that the government wants the public media or MSM to present such a perspective, she should be mentally prepared that CECA will become a Dirty word.
While she tried to salvage the two ministerial statements made by Health Minister Ong Ye Kung and Manpower Minister Tan See Leng in Parliament on Jul 6, as they had provided useful facts and "an accurate steer on how CECA works," and chastised PSP for refusing to withdraw statements like CECA allows for unfettered inflow of Indian professionals (which NCMP Leong Mun Wai had strongly rejected), she didn't have the journalistic courage to seek answers to questions that Singaporeans wanted to know.
What then is the value of a national daily if it merely repeats a government statement without attempting to present a better quality picture to clear the doubts and confusions in the minds of Singaporeans? ST is functioning like any government agency.
She traced Singapore's early manpower drives to attract skilled labour in the 1980s to the Professionals Information and Placement Service, the Committee on Attracting Talents to Singapore and an international manpower division created within the Manpower Ministry to oversee Contact Singapore offices in global cities to draw overseas talent in Singapore.
I lived through that early era when the talents were really qualified experts in specialized fields who came to help develop Singapore's economy and trained our human resources.She reported without substantive numbers: "The efforts paid off. A 2016 study by two Institute of Policy Studies researchers said net migration numbers increased drastically in 2005 and peaked in 2008.
What does this mean? Was this the end of Phase 1 in recruitment of foreign talent to Singapore? Did Singapore's foreign manpower policy deteriorate after Phase 1 with more import of cheap and less-skilled or qualified foreigners into our labour market?Equally puzzling was her statement: "The increase in percentage of non-resident population grew from 2004 and peaked in 2008", and helped counter falling birth rates. Is Singapore's declining TFR (Total Fertility Rate) a factor in determining the opening of a wider door for the inflow of foreigners besides those targeted as talents to build our economy?
In Minister Ong's ministerial statement, he disclosed that from 2005 to 2020, the number of local PMETs (combination of Singaporeans and PRs) grew by more than 380,000 while the number of EPs (Employment Pass holders) increased from 65,000 in 2005 to 177,000 in 2020, an increase of 112,000 (or an annual growth rate of 7%.)
As there is no quota set for EPs, did MOM accept too many or too few EPs during the period mentioned? This can only be answered if the government is willing to share the number of Singaporeans who have been displaced by foreigners over the last 20 years.
SMU assistant professor of law Benjamin Joshua Ong "notes that while CECA does not oblige Singapore to grant employment passes to Indian nationals, some people disagree with the number of EPs Singapore has chosen to grant."
In fact, the government's assertion that "CECA does not affect Singapore's ability to regulate immigration "is irrelevant because it is MOM which approves the EP application and ICA grants the approval to stay in Singapore. Who holds the control lever on EPs or opens the flood-gate?
Joshua Ong further pointed out that people may confuse "the decision to enter into CECA with the decision to grant EPs to Indian nationals." CECA is a trade agreement which happens to have a clause, Chapter 9 on movement of natural persons" and the issue of EPs is a work pass application process.
Are all the 26 FTAs responsible for the huge import of foreigners or is CECA the main culprit because it was signed with India with a 1.3b population? Why can't the government be transparent to clear the doubts and suspicions instead of throwing smoke-screens or accusing PSP of barking up the wrong tree?
In 2020, Singapore's population stood at 5.69m, of which 3.52m were Singapore citizens. Foreigners made up 2.16m, comprising 0.52m PRs and 1.64m non-residents. It should be clear that competition for jobs from foreigners is intense in our labour market and not pretend that foreigners help create good jobs for Singaporeans.
Grace Ho highlighted an observation: "Before COVID-19, Indian nationals were already highly visible here due to their concentration in certain residential developments and sectors such as information technology and banking."
When this visibility is matched by thousands of Singaporean PMETs losing their jobs to foreigners over the last 20 years, this unhappiness should have been acknowledged and acted upon long ago.
Even PM Lee now recognizes the problem:"Singaporeans are anxious about jobs, foreign competition, as well as the impact of the large number of foreigners working and living here. These are valid concerns which we will address." (Straits Times, 8 Jul 2021).
Yet the two ministers in their ministerial statements, blamed PSP for stirring up emotions and linking CECA to racism and worsening the situation. Obviously, both ministers aren't listening to the calls for help!
Based on an Institute of Policy Studies (IPS) of 2012 Singaporeans and PRs aged 21 and above, from Nov 2019 to Mar 2020, "more than half of Singapore's residents are concerned about their job security, employment prospects and children's future".
This indicated some level of concern about the employment market and the government is not helping to clear the air by refusing to separate Singaporeans from PRs (who are foreigners) in the 380,000 Local PMEs category.
NTU assistant professor of sociology Laavanya Kathiravelu even suggested breaking down employment data by the percentage of foreigners in different industries, which would make clear what kinds of gaps they are filling in the economy. This is a sensible suggestion – how can well-educated Singaporean PMETs who have lost their jobs and livelihoods be expected to forever swallow their pride and take up gig jobs like Grab and PH car drivers and Panda Food riders to feed their families?
Unless MOM is willing to be transparent in data disclosure, no one knows precisely how many Singaporean PMETs have been displaced over the years. Instead of taking positive actions to address the concerns of Singaporeans over job security and discrimination in the employment market, it seems the government chose other paths.
In a virtual press conference by the Emerging Stronger Taskforce on May 17, DPM Heng Swee Keat tried to re-define Singaporean Core and said " that test for us must be the commitment to the well-being of Singapore and of Singaporeans."
This is a drastic difference from our home-grown definition of "Singapore Core" to mean a local born Singaporean. What is the government's agenda in floating (like test balloons) such a definition of "Singaporean Core"? Will Singaporeans be overwhelmed by a growing foreign population as all foreigners can become "Singaporean Core" as long as they show commitment to Singapore and of Singaporeans by holding well-paid jobs?
An even bolder move was made by MAS managing director Ravi Menon in his lecture as ninth SR Nathan Fellow at the IPS in Lee Kuan Yew School of Public Policy on Jul22. It was an apt venue to propound his new policy idea – he proposed to professionalise all jobs and start by doing away with the professional, managerial, executive and technical (PMET) job category.
"If we can't abolish it, then at least drop the "P" from the category: It suggests other jobs are not professionals. We should question the premise that all Singaporeans should aim to take up PMET jobs." [In the ministerial statements in Parliament, the "T" was already dropped quietly to become PME.]
He added: "To be an inclusive society, we must value social and vocational skills as much as academic intelligence," as skilled trades can provide a middle-class lifestyle as in European countries.
We can't disagree with him except that over the last 20 years, most trade and vocational jobs have been taken up by foreigners who obtained S-Passes or Work Permits with low wages. In the PMET category, Singaporeans are also losing jobs there.
Where do we expect our young graduates from autonomous and private universities, polytechnics and ITEs go to for their future careers? What will be their future prospects? Will many of them be compelled to go into the gig industry for a living in the next decade?
While I support suitably trained Singaporeans to reclaim the trade and vocational jobs with a higher wage level, any further loss of PMET jobs could mean greater social inequality and a sharper economic divide amongst Singaporeans.
As it was, the IPS study in 2019-2020 showed 78.8% respondents (sample size 2012) rated themselves in the lower middle class, working class and lower class compared with 21.1% in upper and upper middle class.
It is crucial that the government start to take the concerns of Singaporean PMETs seriously and not allow Ravi Menon's social engineering to hijack the CECA debate by abolishing the PMET category. If our young graduates cannot find permanent entry level jobs upon graduation (because of competition from foreigners,) how can Singapore's human capital be developed?
The signs of young graduates having more difficulties in finding full-time permanent jobs are already showing (with the pandemic making it worse). This was seen in the employment surveys on 11,800 fresh graduates from full-time programmes at autonomous universities (AUs) and 2,500 graduates from Private Education Institutions (PEIs) in 2019-2020.
In 2020, it was reported for AUs that "Fewer new grads land full-time jobs; 1 in 5 in temporary employment or traineeships ". (ST Feb20, 2021). 22.3% AU graduates found part-time or traineeships compared with 7% the year before. For PEI graduates, 49% found full-time permanent employment within six months of final examinations compared with 69.8% from the AUs. [ST reported a rosier picture of 2020 cohort of AU graduates employed within six months of final examinations: 93.6% compared with 90.7% in 2019 but this figure included graduates in full-time, part-time , temporary or free-lance work).
Often the employment statistics presented in the daily newspapers aren't easy to comprehend, and deter readers from getting a clear picture of the employment and unemployment situation. If we take PM Lee's caution seriously that putting the blame on CECA will not solve our problem but instead, make it worse, then the government and politicians should take the lead and stop giving lip service to a serious problem concerning Singaporean jobs and their livelihoods.
If government continue to promote their standard narrative about the wonders of FTAs and CECA, academics stick to the Establishment's standpoint that Singapore will perish without FTAs and the MSM not having the journalistic courage to tell the true story of Singaporean PMETs who have lost their jobs and livelihoods, all these serve to indicate that the politicians aren't really listening to the people's concern.
Kok Ming Cheang
19 Responses to "Politicians should take the lead and stop giving lip service"
Leave a Reply
Scroll Down For More Interesting Stuff