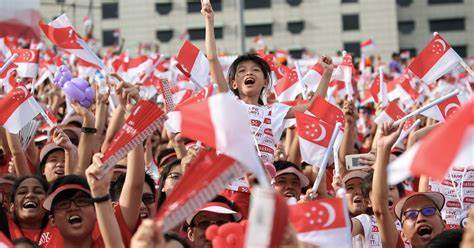 One day while talking to a new citizen from China, she told me the RC handed her many NDP tickets for her friends. Then I recalled many locals balloting NDP tickets for years and never got them. And how these tickets can be easily accessed by new migrants. I believe they were using these events to impress foreigners, particularly new citizens, PRs and foreigners. From that day onwards, I stopped watching NDP nor celebrate. I find it full of hypocrisy that we locals become second class in this country and our national day event, they even had the cheek to do this. Looking at TV who were playing the event, you noticed a huge number there were also foreigners. A national event catering to foreigners than locals, this sums up what this mean to locals!
50% of our population are foreign born, 53% of our work force are foreigners and MSM is blasting that Singapore is not an expat friendly country? Which country in the world has so many foreigners? And we are told by leaders that doors will remain open, which means importing and conversion will never stop. The issue at large is there is not sufficient meaningful jobs for so many, huge number of local PMETs have become unemployed and under employed as PHV drivers and food deliveries. We do have many foreign PMETs living in private apartments but crying that they are underpaid or they created jobs for locals. CECA and FTAs created jobs and help Singaporeans?! What a loaf of bs!
We have leaders who are pro foreigners, put their priorities ahead of locals and still tell you we need to serve our nation and display our loyalty at National Day? Don't you find this absurd? Why don't they ask these new imports to serve the nation instead? Singaporean identity is lost, badly eroded that we were told Singapore belongs to everyone (foreigners included), so why so special about National Day?
Sorry, I dont celebrate National Day or feel a sense of belonging since this country belongs to everyone and we are second class. Do you?
Reboot
46 Responses to "I Don'T Celebrate National Day Anymore"
Leave a Reply
Scroll Down For More Interesting Stuff