Delivery workers in Singapore are providing an essential service for our economy and deserve better protection to safeguard their rights, safety and interests from being exploited by irresponsible businesses.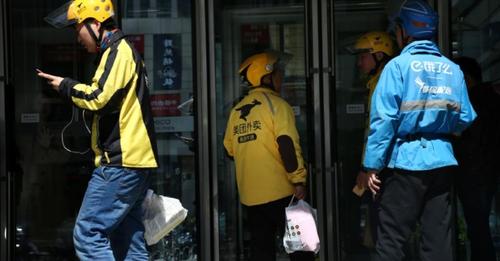 In Europe, delivery and point-to-point business operators like Uber are being compelled by their regulators to treat their drivers like employees and are no longer hesitating in penalising them for trying to circumvent their responsibility.
Good to see that regulator in China are also demanding for better labour rights protection from delivery firms operating in China.
In Singapore, our regulators are still playing catch up with these operators, and until they are able to decisively regulate those rogue operators, then Singaporeans working in these sectors will remain exploited.
Shame on NTUC for failing to stand up for Singaporeans working in these sectors.
Delivery workers and PHV drivers do not conscientiously aspire to join these sectors, and the majority do so out of economic survival and hardships.
This itself is a failure on the part of our government.
After years of denial, the government has now conceded that many Singaporeans were unfairly deprived of good job opportunities due to ill-conceived manpower policies and poor oversight.
Sadly, this positive change was due largely to the selfless contributions from fellow Singaporeans who empathise with the plights of our Singaporean Workforce and not the effort of NTUC.
While Singaporeans welcome foreign investments, we do not welcome investments that are outright exploitative of our Singaporeans Workforce right in our own backyard.
As such, our regulators should start auditing the system used by these so called technology companies and single out potentially exploitative processes in their systems that are detrimental to the well-being and safety of workers.
For a start, ensure the operators are able to provide our workers with a fair day wage, for a fair day work.
If still clueless, then the regulators should at least set up a Resolution for Fair Employment so that workers who are not paid a fair day wage despite doing a fair day work can claim for compensation while the authorities can look into such systemic discrepancies and fix them.
Yes, the compensation should be punitive to incentivize operators so that modern day slavery will not be allowed to take roots in Singapore.
Road Safety:
For years, we have been hearing about officials from our Ministry of Transport (MOT) and the Traffic Police (TP) claiming that "one life lost remains one too many" but the reality on the ground shows a different story.
Has anyone from MOT or the TP actually try to audit a Job Order and see how irresponsive some of their apps can be?
When workers are placed in an environment where they are hard pressed for time while unable to get timely support in dealing with order discrepancies, the risks for accident increases exponentially.
The numbers of road accidents that had occurred on our road and pavement due to this factor should be taken more seriously by our MOT and TP before more lives are lost.
A multi-million dollars fund was set up for families of road accidents many years ago but why aren't the TP looking into reactivating this fund to help the families of these workers who got killed on our road?
No, we cannot afford to keep waiting for NTUC to conduct more expert-reviews or set up more committees to look into these exploits when the problems are already staring at us so blatantly.
Until our government is committed to eradicating this scourge by acting more decisively and with greater consistency, then more Singaporeans are going to suffer.
Has our government forgotten that one life lost on our road remains one too many?
Modern day slavery has no place in Singapore if we still believe that Singaporeans deserve better…
Joseph Nathan
19 Responses to "Shame on NTUC"
Leave a Reply
Scroll Down For More Interesting Stuff