This is how establishment tried to frighten people into taking vaccines!
For some reason, people still think the CDC can be trusted.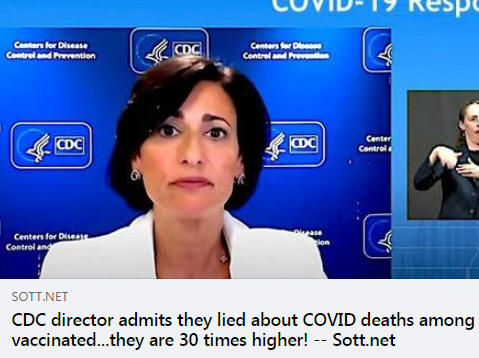 During a press conference last week, CDC Director Rochelle Walensky admitted that her assertion that over 99 percent of covid patients dying in hospitals were unvaccinated was a load of nonsense.
The allegation, which was echoed by Anthony Fauci, Surgeon General Vivek Murthy, and other top officials, was exposed as a fraud on July 29 by the CDC's own statistics, which was published by the Washington Post.
According to the CDC, the number of covid patient in-hospital deaths in May was 15% among the vaccinated, not 0.5 percent as they all claimed — a figure that is 30 TIMES more than they claimed.
The CDC and White House officials didn't tell the public that – because they were in overdrive trying to scare everyone into getting vaccines.
After being questioned Thursday on the number by a CNN reporter, Walensky said that:
…those data were data that were from analyses in several states from January through June and didn't reflect the data that we have now from the Delta variant.
In other words, to get that number they not only cherry-picked data from "several states" but they included data from January when covid deaths were at their peak and less than 10 percent of Americans had even taken the vaccine and they excluded the most recent data showing potentially waning protection.
What an astonishing act of fraud!
Goh Meng Seng
38 Responses to "People still think the CDC can be trusted?"
Leave a Reply
Scroll Down For More Interesting Stuff