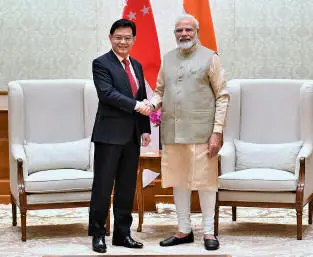 The Law & Home Affairs minister threw Progress Singapore Party (PSP) a challenge on CECA, they accepted it and the parliamentary debate is scheduled for Tuesday, 14th September after PSP filed their motion.
Prime Minister Lee Hsien Loong also addressed the issue, citing that "Singaporeans are anxious about jobs, foreign competition, as well as the impact of the large number of foreigners working and living here".
He also said that "These are valid concerns which we will address."
Nevertheless, he cautioned against putting the blame on CECA as he thinks "that will not solve our problem but instead make it worse."
So finally we can all agree that we have a serious problem with large numbers of foreigners working and living in Singapore, and that this has impacted our job and economic opportunities.
As such, it is imperative that every stakeholder act in good faith and contribute to this debate.
To solve the problem at hand, we all need data and lots of it to comprehend where we have gone wrong.
When the PAP became hesitant or reluctant in providing data needed for due analysis, it shows a degree of bad faith in addressing the challenges at hand.
For a start, PSP needs to know the number of approved applicants under the Intra-Corporate Transfer (ICT) before they can add up the concession for the relocation of family members of approved applicants.
What this means is that as every ICT applicant can bring spouse, parents, parents in-laws, children when they relocate to Singapore, there is a need to add up these numbers over the past 15 over years before we can determine the socio-economic impact of this concession.
There is a need for clarification as to whether the accompanying family members are allowed to find employment locally and if so, what is the impact on local employment.
To debunk allegations that these applicants were granted new citizenship, it helps if data can be provided as to how many of these applicants and family members were granted PR & citizenship over the past 15 years.
If all the critical data can be provided, then the upcoming parliamentary debate can used effectively to help us clear up this mess once and for all please.
Isn't that the objective of the debate?
As such, l hope Lawrence Wong, the Finance Minister, will withdraw or amend his motion, which is looking like a distraction as its "Points of Motion", except for the first, are not only contradictory but they lack specifics.
They are like asking the house to trust him by giving the government another blank cheque but without specifying any qualifying criteria.
It is imperative for the Speaker of Parliament to question Lawrence on his various "Points of Motion" and demand that he be specific about them.
In fact, the Speaker should remind the house not to waste its time and resources, and be strict in restricting all distractive arguments.
With an increased interest in this debate, more Singaporeans can now witness first-hand the parliamentarians that they have voted into office and see their sincerity and dedication in serving their needs.
Now that all the parliamentarians are being "eagle-eyed" by their voters, those who act foolishly may just find themselves out of favour with their voters in the next General Election, just like what happens to Ng Chee Meng & company at the last election.
For those shortlisted for premiership to take over from PM Lee, it will be wise of them not to insult or belittle the intelligence of Singaporeans by trying to defend the indefensible, twist facts or be seen to be spineless.
Those who can demonstrate that they can empathise with the hardships and sufferings of fellow Singaporeans, and can show firm resolve and urgency in addressing the root causes of their problems may just earn themselves the vital support of Singaporeans.
As it is, Lawrence may just find himself critically out of favour with Singaporeans unless he withdraw his motion or amend his points of motion to reflect the socio-economic reality that is currently undermining the debate.
But if he still think he can play politics, belittle fellow Singaporeans or twist facts to suit his arguments, then he may just end up like Ng Chee Meng.
What is the use of being promised the premiership if he don't get elected?
As this debate is about addressing the plights and hardships of Disadvantaged Singaporeans, even the parliamentarians from the Workers' Party (WP) would be compelled to ask some very Hard Questions as that is what WP is suppose to stand for and not be seen as being PAP-lite.
I hope that all parliamentarians, elected or nominated, will wise up and show their best conduct and competency in this debate if they still believe that Singaporeans deserve better…
Joseph Nathan
20 Responses to "Lets have all the data so we can clear up this mess and move forward"
Leave a Reply
Scroll Down For More Interesting Stuff