The table below shows the new cases and deaths for the last 7 days per million of population in two groups of countries.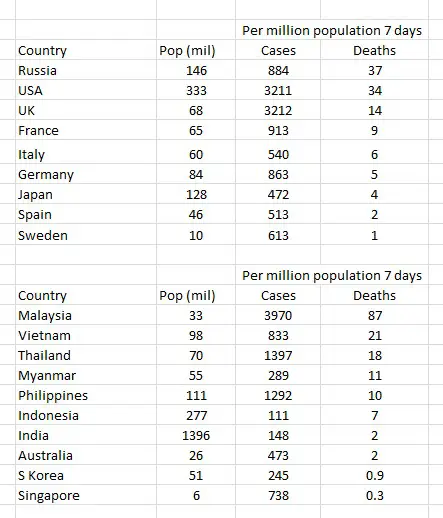 America and Europe
The death rate is 37 for Russia, 34 for America, 14 for UK and lower for France, Italy, Germany, Spain and Sweden.
The death rate for Sweden is 1 per million which is surprising low.
Asia
The death rate is 87 for Malaysia and between 21 to 7 for Vietnam, Thailand, Myanmar, Philippines and Indonesia. It is less than 45 for Japan, India, Australia, South Korea and Singapore.
The death rate for Singapore is 0.3. The death rate for India is at only 2 per million.
Tan Kin Lian
38 Responses to "Comparison of countries – Covid-19 deaths per million"
Leave a Reply
Scroll Down For More Interesting Stuff