Here we go again. Another surge in infections, another series of knee-jerk reactions that don't make sense.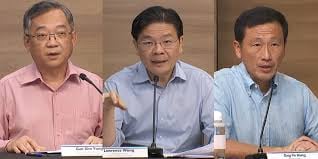 I'll cite just a few examples:
One, more than two persons from the same household can ride together in a taxi or PHV. But when they alight, they cannot dine-in together because restaurants are limited to two per table. They also cannot visit their relatives because households can only have up to two unique visitors per day.
Two, if the four persons are from different households, they cannot get into a single cab. But they can happily climb into a bus or MRT train.
Three, social gatherings are limited to two per group but group tours (eg. Duck Tours) can be up to 50. Where do these people get their ideas from? Whoever is writing them need to remove their heads from their derrière.
Since we opened Orange & Teal, we've bounced from a no-dining-in phase to groups of two dining-in with conditions to five with more conditions, back to no-dining-in in less than a month, then back to two with modified rules to five with more modified rules and now back again to two.
This yo-yo type of policy-making is driving everyone nuts; there is no logical consistency. It certainly doesn't inspire confidence in their ability to tackle the pandemic which is putting businesses and jobs under immense pressure.
And when it comes to events that suit their purpose eg. National Day Parade or the GE last year, they have no problems holding them.
The tragedy is that the sorry state of affairs is confusing and demoralising to an already Covid-fatigued population.
To put a stop to this mess, the SDP will announce an 8-point exit strategy to decisively tackle the pandemic.
The plan drawn up by our healthcare panel led by leading infectious disease expert Prof Paul Tambyah. We will present our alternative ideas shortly and will open it for public review.
Dr Chee Soon Juan
34 Responses to "Here we go again"
Leave a Reply
Scroll Down For More Interesting Stuff