I've highlighted before, PAPies are not only disastrously mis-managing this crisis, but probably also doing lots of "massaging" the numbers to manage appearances. LOL. Just look at the recent numbers below:
Date : Number of new cases on this day : Number of Deaths on this day
15 Sep : 807 : 0
16 Sep : 910 : 1
17 Sep : 935 : 1
18 Sep : 1001 : 0
19 Sep : 1012 : 2
20 Sep : 917 : 3
21 Sep : 1178 : 1
22 Sep : 1457 : 2
23 Sep : 1504 : 2
24 Sep : 1650 : 3
25 Sep : 1443 : 3
26 Sep : 1939 : 2
27 Sep : 1647 : 2
See the number of deaths looks like a "cha cha cha dance" pattern? 1,2,2,3,3,2,2…. Once again, virus also so obedient, must dance to PAPies tune? LOL.
Remember, this Delta a FAST acting disease – that is either you don't get much symptoms and recover relatively easily or you die quite quickly from various problems (within days); so the curves for new cases & deaths should track each other with little lag, yes?
Now for other countries, when the curve increases in number of cases, the deaths also logically increase in tandem. See Israel data here.
Israel number of deaths track new cases very closely, and recall that they are also HIGHLY VACCINATED population.
So somehow, Sinkiepore VELLY VELLY SPECIAL?? even foreign coronavirus immigrate into little island also behave obediently under PAPies great LEEdarship hor? Coronavirus must have more brains than FTs do? LOL.
Also note that, in just slightly less than half a month, we have exactly 16400 (nice round number) of new cases, which means its already more than the total number of hospital beds in Singapore (both public & private hospitals added together have about 16,000 +/- number of beds).
Here is the chart to show you WHY we short of hospital beds for Sinkies: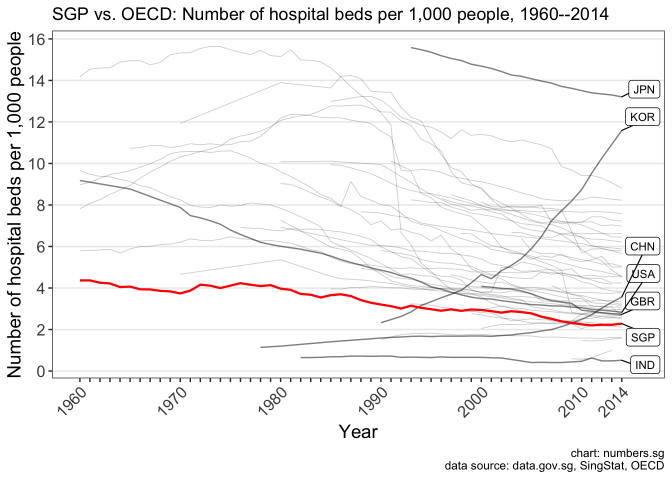 We have been REDUCING the number of beds per 1000 for many decades! because our population of FTs have OVER-grown our medical capacity!
Is that why they keep encouraging you "NO need go hospital, stay at home treatment if infected"?
Same like previously, when they caught off-guard never prepare before hand and then short of masks in the warehouse, they tell you "No need wear masks if you are well"? LOL.
Compare this to some other countries like Korea, which have been rapidly INCREASING the ratio of beds per 1000 since 2014.
Even China has a much HIGHER ratio of beds per 1000, compared to Singapore post 2010! LOL.
Footnote: AFTER I expose the PATTERN in the numbers on COVID cases/deaths, I'm sure PAPies will "chut new pattern" again to "manage" the statistics to "randomize" it, while "adjusting" the trendlines and "perception" of their continued "success" yah? Good Luck to Sinkies. LOL.
Spineless Sinkie Syndrome
20 Responses to "The Cha Cha Dance"
Leave a Reply
Scroll Down For More Interesting Stuff