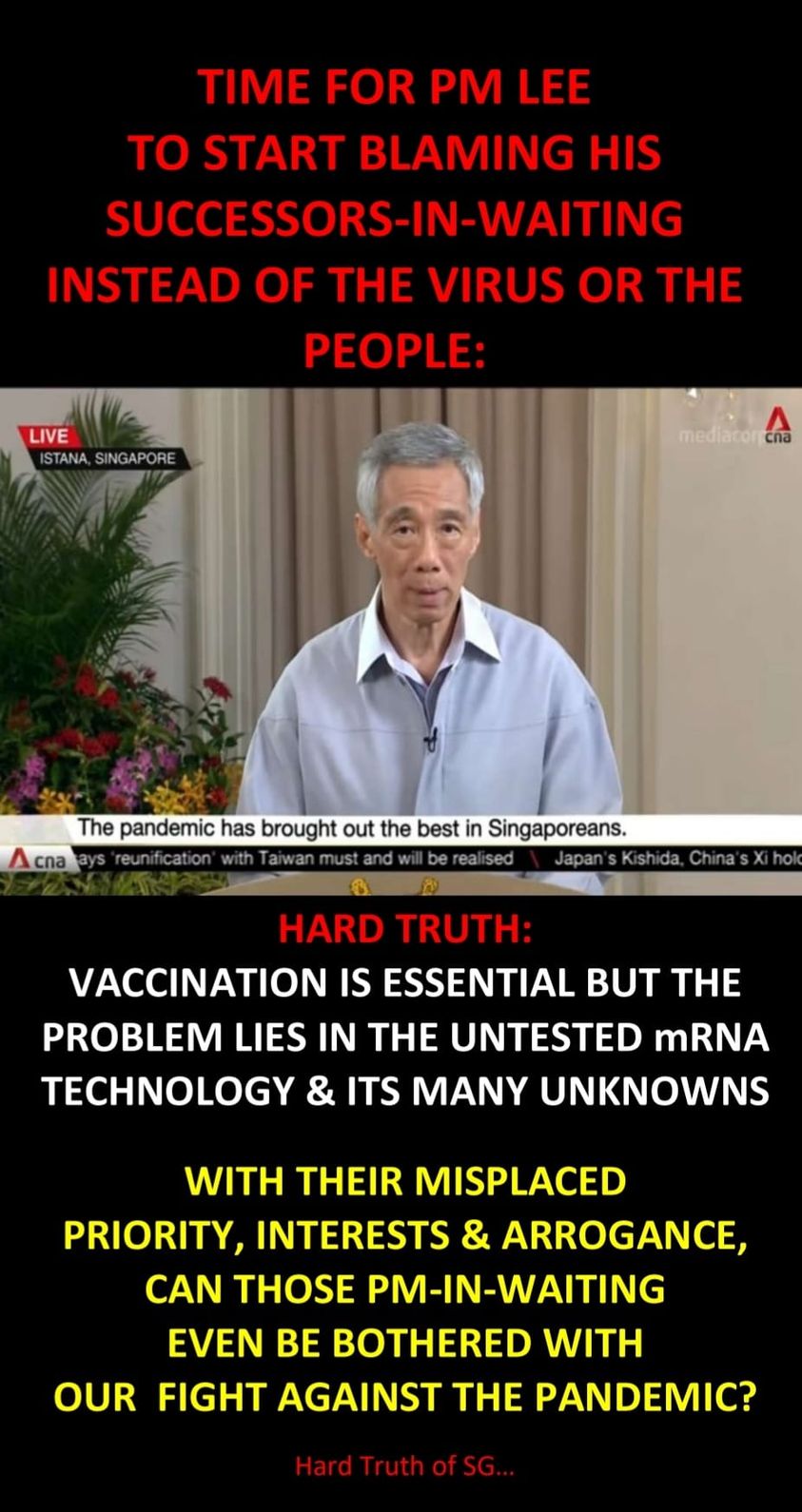 PM Lee Hsien Loong was right in stating that the pandemic has brought out the best in Singaporeans when addressing the nation earlier.
Truth be told, he should have also added that the pandemic has brought out the worst in his "shortlisted" successors and other 4G politicians whom he has been grooming ever since he assumed his premiership as Singapore's third Prime Minister.
To be fair to the virus, our socio-economic woes were already in the making prior to the pandemic and the virus just compounded our miseries.
Pandemic Mismanagement:
The fight against the pandemic has largely been polarized between the Chinese's zero-tolerant strategy of swift use of lockdown, testing and tracing to contain any potential viral transmission and protecting their domestic market with very restrictive control of their borders, and the US's strategy, which is underpinned by their belief that the virus will disappear by itself, and as such, that they can even economize their exploit of the pandemic by propagating vaccination as the primary solution out of the pandemic.
For the Chinese, their deployment of the "tried & tested" containment strategy against virus outbreak remains their primary strategy in the fight against the many unknowns in any pandemic.
In so doing, they have managed to contain the pandemic while concurrently mobilizing their resources in creating vaccines using yet another "tried & tested" use of inactivated virus.
These approaches collectively underscores the importance of ethics espoused by the Hippocratic Oath – "above all, do no harm"
Setting aside ethic, the reason why the Chinese is playing it safe rather than be sorry is because any social discourse over any glaring mismanagement of the pandemic can very quickly be escalated into the fall of their central government.
This shows that there is still a reasonable "check and balance" between the people and their government despite its socialist ideology which many democratic-advocators are against.
For the US, their initial response under President Trump was overly lax, probably presuming that the virus will go away by itself, and this fatal mistake was used shrewdly by the Democrats against the Republican during the last Presidential Election.
In blindly following the strategy of the US so faithfully, PM Lee was badly mocked during the onset of the pandemic in 2020, when he actually advocated against the use of mask.
Vaccination Strategy Being Undermined By The Untested mRNA Technology:
But when President Biden came into power, his strategy was quickly pivoted towards vaccinating his way out of the pandemic while discreetly enthroning their leading pharmaceutical giants with obscene orders from the global adoption of the untested mRNA technology used in their vaccines.
When countries like Israel and Singapore, who are staunch allies of the US, start experiencing an exponential increase in infection and death despite having a vaccination rate of over 80%, it is looking like doing more of the same with additional booster shots is not likely to create the desirable outcome that vaccination has promised.
Vaccination in itself is a good strategy against any pandemic but the problem we are facing lies in the untested technology of the mRNA and its many unknowns, as evident in the rise of infections and deaths in Singapore and Israel.
This may just be the Hard Truth as to why Singapore's fight against the pandemic is faltering so badly.
Light At The End Of The Tunnel For Some:
Countries like China, New Zealand and even Australia, who have taken a zero-tolerant approach in dealing with the virus, are now looking forward in opening their domestic economies as the year-end holidays and celebrations approaches.
By appreciating the just how vital their domestic economy can offer to their citizens and putting effort in protecting them by controlling their borders, they have wisely chosen "a bird in hand" over the "two in the bush".
In the sad case for Singapore where all hope of a celebrative year-end may have been dashed by the miscalculations of the Multi-Ministerial Taskforce (MTF) when our borders were open too prematurely and that unwittingly allowing the Delta-variant a free access into our population and damaging our domestic market and all hopes of any real recovery.
Lee's Derailed Succession Plan – Is There A Power Vacuum At Play?
Those shortlisted successors of PM Lee have been rotated so frequently until nobody knows who is to be blamed for our economic woes and who should we be blaming for our pandemic woes.
So in all fairness to Ong Ye Kung, the current Health Minister, questions need to be asked if he was promoted or was he "thrown" into the hot seat by some unseen force.
If so, could it be that there may be some forms of infighting or backstabbing going on in the 4G PAP inner circle while Singapore is fighting a deadly pandemic?
If there is indeed an invisible hand at work, then aren't Heng Swee Keat, Lawrence Wong and Ong all victims of some political backstabbing?
Is that why the Law and Home Affairs minister is fortifying his own position by rushing to pass the FICA bill so urgently despite much protest?
Question is, who has been discreetly taken out of the hot seats of our economic and pandemic woes and also stand to gain the most from their miseries?
And if so, isn't our fight against the pandemic already a lost cause should those successors-in-waiting are fighting and destroying one another to become the next Prime Minister of Singapore?
Looking Ahead:
I sincerely hope that all these are just some figments of my imagination and will not come to pass as such a dreadful scenario is worse than having a rogue government which Lee Kuan Yew has warned us about.
But the possibility of political infighting within the 4G PAP remains probable since power will always find its way into any vacuum and that is why PM Lee must exert much more control over his successors-in-waiting and not allow such a dreadful eventuality to come to pass.
The troubling problem with this is that Lee is already not in his best of health and the stress of a failed succession plan, our prevailing socio-economic woes and the latest mismanagement of the pandemic may just prove too much on his already fragile body.
This begets another vital question – what if Lee is unable to complete even his current term in office without naming his successor and address any potential public resentment of his replacement?
Can Singapore afford to ignore this reality or hope that by keeping their fingers crossed, they can avoid the inconvenience of addressing this fundament reality?
In a cynical way, the pandemic has become a real eye-opener in exposing the incompetency of the current 4G PAP and shows us that all is not well within their inner circle.
In retrospect, Lee should have been much more firm in holding his successors-in-waiting to account for their earlier failures, and if he has done so, then we would most likely be having a much more dynamic task force on deck in taming the pandemic and saving our economy.
This is where I think many Singaporeans will feel the painful loss of leaders like Lee Kuan Yew or Goh Keng Swee, who have stood fearlessly in the face of major challenges to get us out of harm ways.
But we have to accept the reality that they are gone and the current 4G PAP politicians, especially many of those who are in waiting to become our next prime minister, may well be leading our country into more chaos and despair with their misplaced priority and interests.
Nevertheless, I still hope Lee will remember the legacy of his father, and do something "miraculously surprising" to effect a positive socio-economic change in Singapore, if he still believes that Singaporeans deserve better…
Joseph Nathan
12 Responses to "Time to stop blaming the virus or the people"
Leave a Reply
Scroll Down For More Interesting Stuff