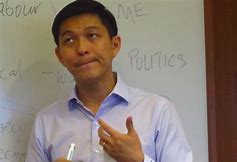 It's deeply ironic these Tan Chuan-Jin remarks:
(1) He wrote: I guess [Vietnam] can choose to define the past as they see fit. This doesn't change the past as many view it.
Irony because: The Singapore PAP government distorts the past the way they see fit too, regardless of how many others view the past.
(2) He wrote: The strange thing is to see some Singaporeans (I assume they are and not created entities from other countries) who happily jump on the bandwagon and take issue with our Government and having no regard for history.
Irony because: The Singapore PAP government has also created entities known as IBs who have happily attack other Singaporeans, without regard for history.
(3) He wrote: Perhaps they have not read nor have any idea about what happened? Or worse. They know but still choose to snipe because it's politically expedient.
Irony because: The Singapore PAP government wpd know about what happened in history (for example, with regards to Project Coldstore and the Marxist Conspiracy), and yet choose to snipe because it's politically expedient.
Basically, the PAP is in no position to make such claims against another country when they are two sides of the same coin.
From what I've read, what happened with ASEAN, Vietnam and Cambodia is still disputed in the many roles and agendas each country has, as well as the different fears and suffering faced on all sides. To claim one's history as real and the other's not is to forget that each country has chosen to define history the way they see fit, in support of their agendas.
Fundamentally, 2-3 million people died in Cambodia and to make light of that by writing in a way that is as insensitive as allowing it to be interpreted that the Khmer Rouge regime should not be replaced is severely tone deaf and, well, basically, insensitive and not sensible at all, especially for that supposedly of a statesman.
And to still not dealt with it but hide behind the response of the Ministry of Foreign Affairs, is also quite unbecoming. At some point, we need people who are able to acknowledge their insensitivities, to be able to recognise they made mistakes (even in speech) and to learn to let their ego go.
The irony is how most of the Southeast Asian governments have chosen to indulge so much in authoritarianism and propaganda that it's difficult for all their citizens to see between fact and fiction, and how propaganda has become the centerpiece of rallying their individual populations that it means having to 'save face' and protect one's ego instead of learning to find a way to reconcile.
When people say ASEAN is a joke, it is not because of us citizens who sincerely want peace between our nations, but when our statesmen who behave like kids who only know how to distort the truth for their own agendas, and deriding real historians while reinterpreting history to maintain power, then how can trust be forged between countries and how can our countries remain safe when basic trust cannot be built on truth and sincerity?
This incident need not happen in the first place, if sensibilities had existed. And if Singapore's PAP government has not been so eager to keep using communism as a rallying cry for their rule. Are we still in the 1980s?
There was a time when Singapore was somewhat respected because, for the dictator that Lee Kuan Yew is, he had some sense. And he knew how to build relationships. At some point, you have to acknowledge that now that Lee Kuan Yew is gone, the hands steering our ship today simply do not have the same ability, and are doing a worse job. Singapore's worth has diminished so much, that countries are realizing that even democratizing Malaysia might be an even better bet, as the geopolitical situation in Southeast Asia changes. From a trusted position as late as 10 years ago, Singapore is losing its reputation very quickly. And worryingly, this current PAP government does not seem to have any ideas anymore, except to keep harping on the 1980s. Dudes, we are in 2019 today.
Relying on PAP to right the wrong, is to hope that Hyflux would have the ability to turn itself around.
Well, it sank.
Roy Ngerng
24 Responses to "The irony of Tan Chuan-Jin's remarks"