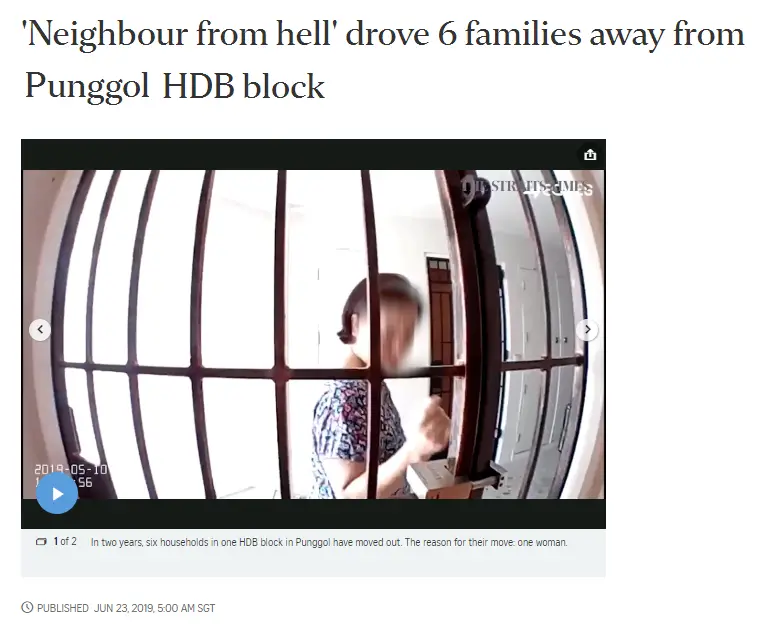 It was recently reported that a deranged woman had caused 6 of her neighbors at Block 603B Punggol Road to relocate because they could not tolerate her annoyance. Yet, the police, town council and the constituency's useless PAP MP, Ng Chee Meng, were all unable to help them over the years.
People who live in HDB flats long enough will encounter all sorts of neighbors – the good, the bad and the ugly. But by and large, with some understanding, mutual tolerance and a give and take spirit, most would be able to overcome their differences.
In this particular case, my understanding is that numerous police reports were made by the various parties and the police's stand was that it was a non-arrestable offence and so they didn't act. The town council, just like the PAP MP, were all impotent and useless to offer or institute any real solutions to help those suffering families.
Now that this case has gone viral and become public, I ask if there are any lessons that we as a society and people can learn from and take away from.
Firstly, I hope that our police could be more sensitive and responsive and not merely operate behind certain standard protocols or standard operating procedures. Those many reports made by those various different families must all shared a common thread and complain and they were all helpless and crying for help.
It was too easy for the police to push all those away under non- arrestable offences. But to any truly empathetic and responsive police force, it would have been more alert and gone one step further to take a harder look at this case and see what it can do within its power such as giving a clear and stern warning to that woman.
Next, the town council and especially their very well-paid and well-fed but useless PAP MP. Given what has happened, it would be stupidity of the highest level if Singaporeans still continue to believe that their PAP MPs are the most capable of looking after their interest(s).
Assuming that the deranged woman were to live next door to that 'dishonorable son' or any of those PAP Millionaire Ministers and she behaved in exactly the same way that she exhibited towards her neighbours, I have absolutely no doubt in mind that the problems would be taken care off in a jiffy.
If Singaporeans are still not willing to believe that they have a bunch of pretty useless PAP MPs more sucking than serving them today, then nobody can help them really.
Simon Lim
23 Responses to "Can you really rely on your PAP MP for assistance when you need it most?"
Leave a Reply
Scroll Down For More Interesting Stuff