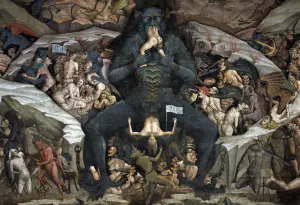 In a recent interview Mr Milquetoast (current PM) says that we need " 'to be able to accept the new way of doing things and to be able to change'" and "'In our case, if we don't reinvent ourselves and somebody else comes along and takes the apple off our tree, we won't have lunch.'"
He is subliminally talking about the Garden of Eden metaphor but with the current elites and Dishonourables we are already in the grip of the Fallen Ones.
Then comes the disturbing part, he actually says:
"'I think that's a lesson which… we ourselves, not just the population, need to know and to remind ourselves every morning that we have to keep on being prepared to reinvent ourselves, and sometimes to cannibalise ourselves, because otherwise somebody else will do it.'"
Why should such imagery from cannibalism be used in such a context? This is something associated with dark forces and should not be used lightly by those in public office.
What if one were to say: "I am guided by Divine forces to say the truth that we live in a corrupt society and justice must be the order of the day and we must start with removing those who are harming us from positions of influence."
Would that be tantamount to going against the so-called secular state, or if it was uttered by a political figure: the same as mixing religion and politics; would such a person at least be open to such accusations?
This is not a point about the term 'cannibalise' being used, it's about how it is used.
Mr Lee goes on to talk about diversity, but we are not open to change given the same old bullying tactics of the ruling class and disgraceful political censorship (Fake News laws) nor being open to different ideas from citizens who challenge the stultified thought of the Hollow ones.
So reinvention of ourselves is a problem: but to say we must cannibalise? Thinking people should ask themselves what this means.
Is it a roundabout way of describing the incestuous nature of politics we have?
Meanwhile, we learn again of the homeless in Singapore: "Incongruent it may be, the reality is that there are virtually hundreds of people sleeping in the rough each night while the rest of the island slumbers on, none-the-wiser about their presence.
… If we have an ecosystem to support the homeless that is not punitive in nature but with dignity, I think we may stand a better chance of eradicating homelessness.
…The onus cannot be solely on the homeless themselves. It falls on all of us, as a society, to own and eradicate homelessness."
But until we move away from the mindset of cannibalisation it is unlikely that positive intent be put in place for so many who are in hardship.
All is not right.
Sources: Singapore has to constantly reinvent – and even cannibalise itself
Greater whole-of-society push needed to tackle homelessness
[Picture: Giovanni da Modena.]

Sanjay Perera
*Writer, and founding editor of Philosophers for Change. First posted at: Facebook; related post: Democratic representation at work and Their morals and ours: hypocrisy at work. For a collection of related posts: Kafkaville.
25 Responses to "Political cannibalism at work"
Leave a Reply
Scroll Down For More Interesting Stuff