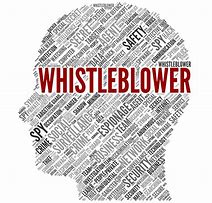 We need an avenue for members of the public to make a report about alleged misconduct, such as sexual harassment and suspected corrupt practices.
Here are my thoughts about setting up an agency to handle whistle blowing.
a) This agency should deal with reports against any party in the public or private sector.
b) The whistle blower should be allowed privacy and protection from retribution from making the report.
c) The agency should consider the evidence provided and decide if it is sufficient to warrant against the alleged perpetrator.
d) The agency needs to be mindful that the report by the whistle blower may be without merit and was made maliciously against the alleged perpetrator.
e) The alleged perpetrator should be given an opportunity give an explanation of the incident.
f) If there is a need for police investigation, the whistle blowing agency can make the report on behalf of the whistle blower and, where possible, protect the identity of the whistle blower.
The work of the whistle blowing agency requires people with special skills and a good process. This skill requires the work to be handled by a specialized central body.
The whistle blowing report should not be handled by the organization that is being complained against. There is the risk that the report may be filed away and that vested interests will be protected.
Tan Kin Lian
9 Responses to "Set up an agency to handle whistle-blowing"