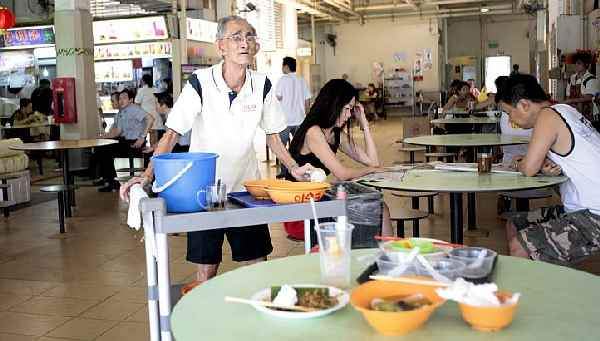 CPF sent me a birthday greeting a few days ago and reminded me: "Don't forget to review your finances and plan for your next milestone. With careful planning, you will move ever closer to your financial and life goals."
I took out my calculator and did some number crunching.
I managed to have the "minimum sum" but 50% was in the form of the pledge of the value of my HDB flat. Therefore, the estimated monthly amount i can expect to receive when i reach 65 is about $500 to $600 – or about 50% of what is a decent living expenses in Singapore in a recent survey and if this place can maintain zero inflation for the next 5 years – quite a gloomy picture.
Then I was reminded that I am better off than 70% of the population. Didn't they unashamely reveal that more than 70% of those reaching 65 years would only have less than $350 a month? Why are our contribution of making the place from a swamp to today's metropolitan not recognised? Where is the wealth we created from a land price of a few cents to today's HDB $400+ per sq foot? How can I be proud to be a Singapore citizen?
How to ask my next generation to defend something which become zero value in 30 to 40 years time? The flat which I used a large part of my CPF life savings to pay for. Fortunately, we still have some time to figure out out how to accrue the value creation and appreciation of land value to the individual household than to be surrendered to the government coffers. But right now we deserve a decent living standard.
Therefore, I propose that whoever wants to be the government, they must consider introducing a state pension to supplement the current retirement inadequacy of the population.
I would propose that every citizen receive a state pension of $500 per month from the age of 60 to 80 – We can well afford it and don't let the politicians and the psuedo economists tell you otherwise.
We have about 700,000 people in this age group. That means a annual budget of $4.2 billion – about 5% of our current national budget. We have surpluses of about $10 billion for the last few years. That means that we are over taxed not because the government is efficient or prudent in the spending. If fact, we are over paying the monkeys that they have become fat cats!
In perspective, we allocate 30% of budget to defence. Defence is but an insurance program from my perspective and i would not consider spending more than 10% of my income to buy insurance. A PAP government plans to increase gst by 2% (i.e. a 28% increase in GST receipts – projected to be about $4 to $5 billion dollars). While we concede to be taxed more, we must demand that our welfare is better taken are off.
More importantly, the $500 per month means a direct injection of $4 billion into our local business economy. I can bet you to the last dollar that no one in the 70% receiving less than $350 is going to splurge on a cooking class in France or to dress up so that they could be on par with CEOs! What is likely to happen is that when the hawker raises the price by another 30 cents we wont have MPs pretending to represent the plight of the no wage and low wage people.
*Facebook post by Tan Tee Seng.
13 Responses to "A case for increasing welfare spending for the 700,000 poor elderly folks"