In Parliament today, Khaw announced that the public transport fare formula would need to be reviewed to take into account rising operating cost and claimed that the public transport companies are operating at a loss.
As such, there has been an increase in government subsidies which would need to be covered by raising fares.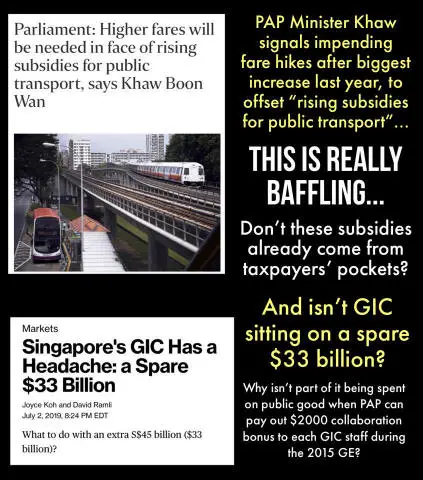 Khaw's announcement came after last year's review which saw the biggest hike of 4.3% in Dec.
Khaw's use of government subsidies to justify fare hike is really baffling. Don't these subsidies already come from taxpayers' pocket?
So why are we taxpayers being penalised for inefficiencies of the public transport operators who incidentally, pay their CEOs millions of dollars.
And lastly, isn't the GIC sitting on a $33 billion surplus?
During the 2015 GE, the PAP paid each GIC staff a collaboration bonus of $2,000 under the pretext of SG50 celebration.
So if it's willing to pay such large sums of money to buy votes, why is it so averse to spending more money on public good?
*Facebook post by The Alternative View.
26 Responses to "Why are we taxpayers being penalised for inefficiencies of the public transport operators?"