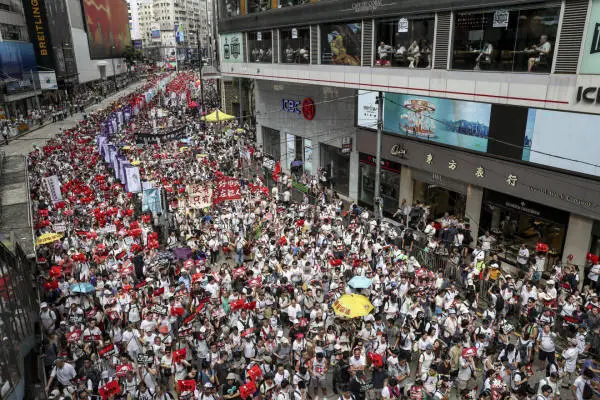 At the conclusion of the infamous Gettysburg Address on 19 November 1863, Abraham Lincoln summed up an ideal government as follows:
"… that government of the people, by the people, for the people shall not perish from the earth."
Let us first examine the significances of the above statement.
·       The term "government of the people" means that the country shall ideally be governed by local citizens of the country, rather than by foreigners.
·       The term "government by the people" endorses democracy, that is, the ideal government is to be duly and fairly elected by the people.
·       The term "government for the people" means that the government should always act in the interests of the people, rather than in the interest of itself or of any foreign entity.
Within the span of one sentence, Abraham Lincoln laid down the essences of an ideal government.
The Situation in Hong Kong
We now examine the current situation in Hong Kong with respect to the Chief Executive, Carrie Lam.
While Carrie Lam was born in Hong Kong, her entire family (husband, 2 sons and herself) took up British citizenship.  In 2007, only Carrie renounced her British citizenship so that she could take up the principal official post in the Hong Kong SAR government.  While the readers need to decide if this qualifies the "government of the people", one cannot help wondering if her heart is truly with Hong Kong.
Carrie Lam was appointed by China to take up the post of the Chief Executive of Hong Kong and was never freely voted by Hong Kong citizens for her current position.  With 2 million Hong Kong citizens taking to the street to demand for her resignation, it is probably safe to conclude that she is probably not the people's choice for the position of Chief Executive, that is, this is hardly a case of "government by the people".
Finally, it was not obvious why Carrie Lam wanted to introduce the extradition bill, which triggered the massive protests until today.  To begin with, one can search the internet and find numerous articles alleging that China police have secretly infiltrated into Hong Kong to arrest anti-China protesters and to kidnap and bring them into China.  The current unhappiness might have been triggered by the perception that the extradition bill only serves to make this process legal.
A critical question is to understand why Carrie Lam would want to introduce this bill, especially if China had not demanded her to so.  Of course, conspiracy theory may suggest that China might have demanded this bill to be elected, or at least strongly hinted that they wanted this bill to be made official.  Leaving these arguments aside, the critical question is in what ways is the establishment of the extradition bill aligned to the interests of Hong Kong citizens, that is, is this a case of "government for the people"?
A check on Wikipedia indicates that Hong Kong citizens' unhappiness might have been building up over some time and the extradition bill merely served as the straw that broke the camel's back.  In particular, an interesting consideration is whether the clamping down of pro-democracy elements is aligned to the interests of Hong Kong citizens?
https://en.wikipedia.org/wiki/Carrie_Lam
https://en.wikipedia.org/wiki/Carrie_Lam_as_Chief_Executive_of_Hong_Kong
Nevertheless, it is probably safe to conclude that the massive protests suggested that most Hong Kong citizens perceived Carrie Lam is not acting in the interests of Hong Kong citizens.  However, interestingly enough, even at this moment, Carrie Lam insisted on not stepping down so that she can continue to serve the people in Hong Kong.  So exactly what does Carrie Lam mean when she continues to cling on to the position of the Chief Executive to serve the people, at that time when 2 million people (out of a 7.5 million population) wanted her to step down?
Of course, conspiracy theory may suggest that China disallowed her to step down.  If she steps down now, it may be a precedence that Hong Kong citizens may rally and protest against any future Chief Executive to force his resignation, something that is a definite no-no for China.  Worse still, massive protests may erupt in China if this massive-protests-lead-to-stepping-down culture spreads from Hong Kong into China.  Hence, Carrie Lam might could not step down simply because China might have threatened her that she would face huge negative consequences if she does so.
The Situation in Singapore
Of course, it is always easier to look at other peoples' problems as bystanders.  The important question for all of us here in Singapore is whether our current system fares in the three points with regards to the formation of a good government.
·       How many of our ministers and MPs are born and breed in Singapore, with their hearts to Singapore?
·       Are our ministers and MPs elected into power on totally level playing field?  Do Singaporeans choose to elect our ministers and MPs based on the conviction that we really wanted them to govern the country, and not because of fear or flavour?  Equally important, are people afraid of joining Alternative Parties to voice out opinions that may not align to the incumbent Party's stance?
·       Are our ministers and MPs dedicated to act in the interests of Singaporeans and not for their own vested interests, especially in the areas of office appointments, renumerations and turf protection?
While I am no Abraham Lincoln, I think that we also need to consider a fourth critical criterion of an ideal government, namely, competency.  In order words, are the elected officials competent to govern the country and to lead the country into greater heights? If local monkeys are duly and fairly elected to govern the country, the country will only go downhill even if the monkeys are 100% dedicated to act in the interests of the country.
One thing I will caution is this.  I personally feel that a person refusing to step down in order to "continue serving the people", especially when the people wanted the person to step down, does not command any legitimacy of governance authority.  If one is not given the mandate by the people, any attempt to stay in power in order "to serve the people" is pure nonsense.
On the other hand, we need to cultivate mutual respect in a democratic country.  If majority votes for a party or candidate that we do not like, we have to respect the decision of the majority and not call them "stupid" or "daft" simply because their opinions differ from ours.  Just as we may feel strongly on some issues, we have to respect the fact that other people may have equally strong feelings on the same issues and that their opinions may be different from us.  That is why, it is a case of one-person-one-vote in a democratic system.
Of course, I have my own opinions on these issues and I am sure readers in this forum have their own views.  Nevertheless, I believe all Singaporeans, including the ministers and MPs themselves, should critically examine these issues before the next General Election.  The choice of a good and competent government can and will make large difference towards how our country can progress forward.
Linda Chopra
20 Responses to "The Legitimacy of Governance Authority"
Leave a Reply
Scroll Down For More Interesting Stuff