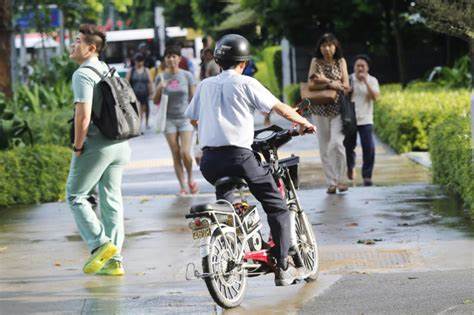 (1) The PMD ban puts Singapore back into a position where there is a wide chasm in accessibility to transportation clearly demarcated between economic groups, where those who can afford, are allowed to purchase cars and motorcycles for private transportation, while the rest who cannot, have to contend with overcrowded MRT and bus public transportation. PMDs served as an intermediary between the economic disparity of public transportation, but even this option has now been removed for the most part.
(2) The quick action to ban PMDs reflect a lack of the socioeconomic dimensions in policy decision making. It lacks consideration of the economic realities that those who can afford to purchase PMDs for either work or transportation would not come from the higher-income and PMDs therefore present as an opportunity for them to find a leg up in a society which is highly unequal. This opportunity is now diminished.
(3) The PMD ban also reflects how when policy decision making does not pertain to the broad macro wealth generation concerns for Singapore's elites, that the lives of the commoners are not planned on a long-term trajectory and are planned in a flippant way. Requiring users to first buy PMDs with the UL2272 standard (meant primarily for fire hazards and not road safety) and then banning it for use on certain areas within a few months represent a knee-jerk reaction that not only does not take into consideration of the lives of those involve, but also reflects how the lives of those involved are unimportant because they do not matter to the macro wealth generation strategy for the political elites.
(4) The PMD ban and the decision making behind it, as well as a lack of comprehensive solutions, reflect not only a lack of long-term planning, but also an inability to think holistically about issues and in tackling them from a broad perspective. It reflects one-track and silo thinking in the decision makers and did not reflect an ability to anticipate the consequences of their decisions.
(5) That the government can willy-nilly come out with S$7 million as grants to placate PMD users after a ban that was badly implemented resulted in retaliation, showed how the PAP government has given themselves such wanton control over the taxpayers' monies of Singaporeans that it can decide at random when it wants to use taxpayers' monies at its disposal, to fix the problems it creates. This reflects poor financial prudence, and poor policy decision planning.
(6) While using bans to resolve issues has become the political habit of the PAP in dealing with issues it finds difficult to understand, this reflects an attitude among the decision makers that banning something is simply easier than trying to understand them, in order to develop more holistic solutions. It is easier to control by banning something. This reflects among the decision makers a continuous want to control and dictate the lives of those considered beneath it.
(7) The PMD use and its ban, as well as the actions of that of pedestrians and drivers on the road, reflect a culture among some that has learnt to be intolerant and socially unconscious to those around them, such as in the lack of willingness in the sharing of spaces. But this isn't a criticism of PMD users, pedestrians or drivers per se. A society that has become vastly unequal creates a sense of insecurity as well as entitlement among individuals across all income spectrums, and it is only natural under these circumstances that individuals act in a self-protective manner. Again, the lack of a socioeconomic dimension in policy decision making and policies which do not seek to protect individuals in society while perpetuating inequality has therefore contributed to creating individuals who become a byproduct of such policies. Selfish policies create selfish individuals.
(8) The political control and repression of individuals in Singapore necessarily create certain expression among individuals who try to retaliate against the perceived control, conscious or unconscious i.e. it would lead to them rebelling against social norms to wrestle over control. Formerly unregulated PMD use during the pre-PMD ban era allows for certain self-expression to oppose such political oppression, and to find ways to contravene the political and social control put in place by the PAP, or to transgress social norms in a regulatory black hole pre-PMD ban. Either way, PMDs presented an area in which the PAP did not know how to rein in, just like how the sudden rise of social media disrupted PAP's political control strategy in the 2000s-2010s, albeit on a smaller scale. And a ban is therefore the only way the PAP knows how to respond to its inability to control.
The ban of PMDs therefore work towards closing the gap in something the PAP does not know how to control. The decision making behind the PMDs also reflect a lack of holistic planning as well as a lack of concern over the socioeconomic plight of users. It also reflects how decision making not centered around the macro wealth generation of the political elite is not taken seriously and therefore lacks proper planning. The PMDs exist as a point on the PAP's parameters beyond which they have not planned in advance for, and could not understand, and it therefore resulted in flaw decision making. Just about 10 years ago in 2003, the decision makers involved were able to think on their feet during the SARS crisis. One wonders how all that is now lost and how the complacency has now set in. The PMDs and the ban can be considered a minor issue, but the poor thinking, planning and implementation behind the ban reflects poor decision making and decision making that does not take into consideration the needs of users, especially those of the lower socioeconomic classes.
Roy Ngerng
14 Responses to "Singapore's PMD ban is symptomatic of the underlying sociopolitical issues in Singapore"
Leave a Reply
Scroll Down For More Interesting Stuff