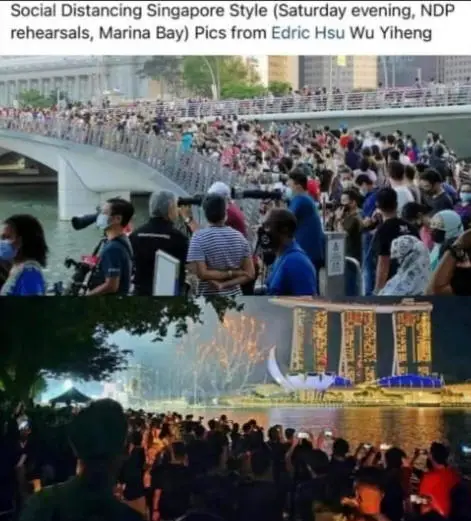 NDP to continue as planned with MINDEF reviewing scale of parade and safety measures- page A9, ST, 21 July 21.
Our National Day (ND) is under 3 weeks away but this year's ND is much different from past NDs.
This year's ND comes at a time when we as a country is literally fighting a war against an invisible but no less dangerous and deadly enemy.
Our patriotism and our love for our country is not only displayed during our ND and the NDP only. It is shown and manifested in many ways throughout the year by citizens who care, who are concerned and their love for this little red dot such as helping the weaker members of our society, speaking out when unfairness and injustice prick our conscience such as the lack of a living wage for the most vulnerable wage earners among us or choosing not to be a coward or a sucker but to call out loud and clear when the king is naked and unfortunately, our king is often naked nowadays.
We must never, never forget that Safety is Always First. Safety of our citizens is never second or third. In a time like now when C19, especially the mutated and highly transmissible Delta variant is circulating in our midst, mass vaccination is below target and unlinked cases are in the double digits, it is pure arrogance and recklessness of the pap government if it presses on with the NDP.
Extraordinary times must demand extraordinary courage, extraordinary wisdom, extraordinary discipline and extraordinary judgement from the political leaders and sadly, I am not convinced that we have that.
Pap ministars must not repeat the mistake of ignoring calls by Singaporeans to ban DP and STVP holders from India etc when C19 was ravaging India just not too long ago.
Even though the government has assured Singaporeans that safety measures will be stepped up, still, NDP crowd's favourites such as the chinook state flag and fighter plane flypasts, the Red Lion free fall parachuting and the fireworks etc never fail to attract large gatherings of crowds and crowds do not only form around the floating platform. Pockets of crowds form from MBS to Gardens by the Bay to MBF Centre to Collyer Quay and elsewhere etc.
Our sense of priority between holding even a scaled down NDP vs the risk of further transmission and infection must not be miscalculated. If it does, it will be the people who will pay the price for their government's vanity, stubbornness and recklessness.
To the 4G pap government, you have been warned.
Think.
Simon Lim
12 Responses to "NDP 2021 – Pure arrogance and recklessness"