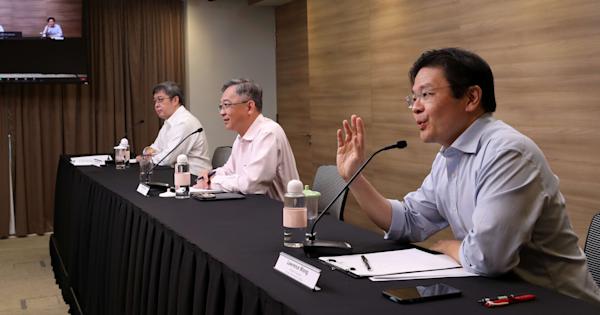 The pap MTF ministers have spoken in Parliament yesterday and according to Lawrence Wong, among other measures announced, our roadmap going towards normality will be differentiated and limited to only fully vaccinated persons.
To be precise, it is only differentiated and limited to fully mRNA vaccinated persons, ie, pfizer and Moderna vaccinated persons and not fully Sinovac vaccinated persons or unvaccinated persons.
I disagree with their approach. There are things that we know and there things that we don't know about C19. What is worse is that we are now dealing with the highly transmissible and more dangerous C19 Delta variants. Let me explain.
We know that even vaccinated persons can be infected and if any such persons are infected, their symptoms are likely to be mild which means that they are unlikely to require hospitalisation or even asymptomatic.
In the meantime, they have become carriers and are very likely transmitting the highly transmissible Delta variants around. That will be a real nightmare indeed.
What we have read so far are efficacy, efficacy and more efficacy of the mRNA vaccines. We have hardly read about the safety aspects of the vaccines.
It is like a car salesman telling his potential customer how powerful and how fast his cars can go without ever mentioning any safety aspects of his cars such as the number of airbags, the car's safety record or the reliability of the brakes etc. I have learned a long time ago that power is nothing without control.
I worry about the adverse side effects of the new mRNA vaccines, if any, and I worry that any potential side effects have no expiry date.
I repeat. I worry about the adverse side effects of the new mRNA vaccines, if any, and I worry too that potential side effects have no expiry date.
Next, what we don't know.
Many people don't understand why fully Sinovac vaccinated persons are not counted like mRNA vaccinated persons in the MTF's roadmap forward.
It was reported that we have >70,000 people in Singapore who are Sinovac vaccinated. Does it mean that as long as our HSA is not fully satisfied with the information provided by China, they will forever be counted out?
By extension, when our C19 alert phase is stand down, does it also mean that Singapore will not welcome any Chinese visitors or foreigners who are vaccinated with the Chinese vaccines to visit, do business, work, stay or study etc in Singapore?
Think.
Simon Lim
8 Responses to "Roadmap going towards normality"
Leave a Reply
Scroll Down For More Interesting Stuff