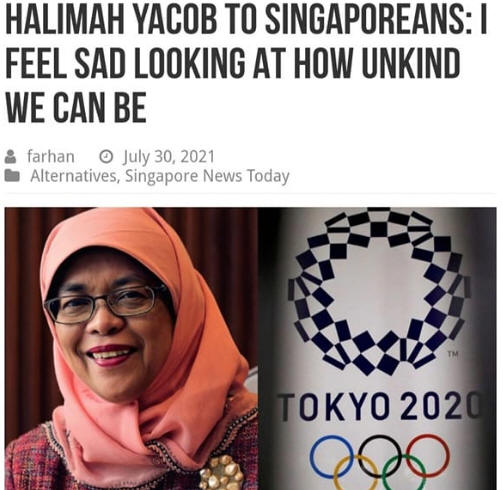 It is indeed shocking when Halimah uses her office of the President of Singapore to literally scold Singaporeans so blatantly as if the action of a few black sheeps actually defines the collective behaviour of every Singaporeans.
Yes, Singaporeans should stand by fellow Singaporeans through thick and thin.
Yes, Singaporeans should support our athletes at the ongoing Tokyo2020 Olympics and not be angry should they fail in their missions.
Like any family or social group, there is bound to be some black sheeps, and as adults, we have come to accept this reality so as not to become overly obnoxious or pessimistic.
In the seventies, Singaporeans were harsh on our footballers whenever they play badly but the then President Sheares did not lash out at Singaporeans because he knew the emotions that come with the sport.
Guess what, our footballers look to the positive side of the barrage of criticisms and realized that Singaporeans were standing behind them emotionally too.
The result, our footballers won the Malaysia Cup and bring the greatest glory back to Singapore.
Point is, criticisms when taken positively can be productive for our athletes.
As such, her latest outburst on Facebook shows just how tactless, and displays her lack of wisdom or diplomacy, to be leading the highest public office in Singapore.
At a time when Singapore is so politically divided, and economically impacted by the pandemic, her lack of timely intervention in those areas shows her poor sense of priority or the lack of it.
Already labelled as the "Selected" or "Appointed" President instead of being addressed respectfully as our Elected President, questions ought to be asked if our highest public office can afford accommodating anyone who is tactless, lack the social and emotional intelligences needed or who clearly do not have the diplomacy skills to unite the conflicts of diverse views, opinions and concerns of Singaporeans?
This is imperative as should the nation be devastated by toxic politicking, it is the role of the Elected President to step in to hold the nation together and help Singapore navigate out of any such predicament.
To do so, the Elected President of Singapore must have the respect of the majority and the tact, wisdom and diplomatic skills needed to unite us in times of crisis.
Looking at her latest Facebook post, l am not convinced that she has the key attributes to be leading the highest public office of Singapore.
Unlike her previous political roles where she could take a cheap shot to score political points, she ought to have restraint her emotion and think about the consequences of her public remarks.
As such, l find it troubling that she is merely mimicking the bad behaviour of some incompetent politicians who love blaming Singaporeans for every conceivable problems.
Is this how she plans to define her term in office?
Can respect be earned by making such thoughtless remarks?
With such glaring lack of key attributes and diplomatic skills needed for leadership, l wonder how she could rise up so fast in NTUC to become their Deputy Secretary General, held so many ministerial portfolios or be elected Speaker of Parliament when all these roles require someone who is competent, tactful and has the social and emotional intelligence to be diplomatic in addressing any issue.
One can shout or utter vulgarities or nonsensical remarks in coffeeshop but when in the proper of any of our public offices, there is decorum to follow to keep behaviour in good taste and propriety.
If no one in these organisations has the competency or foresight to realise that she lacks several key attributes for leadership, then the overall integrity of these organisations may be also called to question.
If her latest outburst on Facebook was a honest mistake, then a simple apology would be in order so that we can let the matter rest.
Just hope that she will follow the decorum of our public offices and think before lashing out at Singaporeans in future.
Like many Singaporeans, l remain troubled as l wonder if Singaporeans deserve better…
Joseph Nathan
23 Responses to "Madam President"
Leave a Reply
Scroll Down For More Interesting Stuff