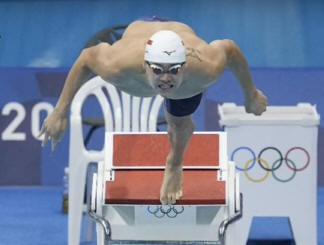 There have been encouraging words for Joseph Schooling and Singaporeans after the Olympic champion failed to defend his 100m fly title at the Tokyo Games yesterday.
That he failed to make the semis did not really come as a surprise. Chatting with fellow veteran journalists more than a year ago, we didn't think Joe could win again.
That assessment came after he showed up at the 2019 SEA Games overweight. It also came as swimmers like Caeleb Dressel were posting better times in the 100m fly.
Without a doubt, Joe has done Singapore proud when he won gold at the Rio de Janeiro Games in 2016. It was unprecedented for any Singaporean, native or naturalised. He opened the door to possibilities for Singapore sportsmen and women.
The way forward now is to learn from Joe how he managed his Brazilian feat. More, importantly, Singapore sports must also learn why he was unable to repeat it in Tokyo or at other competitions on the world stage.
For one, his circumstances are unlike Dressel or multi-world and Olympic champion Michael Phelps. They have an eco-system that keeps them on their toes, competing regularly at the very top level that made sure they were battle-ready constantly.
Joe does not have this benefit because it would have meant that he inserted himself into the US eco-system. It would also have meant a huge investment that has already drained the Schooling family on their own up to Rio de Janeiro.
It takes a village with the right eco-system, including training and high-level competitions, to raise a world champion, especially for sports like swimming and athletics. Singapore just doesn't have this.
This is something going forward that Sport Singapore and Singapore Inc will have to study, if we are to raise another Joe Schooling.
* Facebook post by Ian De Cotta.
13 Responses to "What SGP sports can learn from Joseph Schooling"
Leave a Reply
Scroll Down For More Interesting Stuff