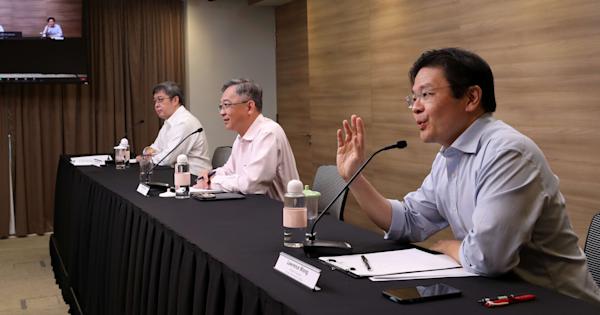 I refer to the article "Covid-19: Time to have new mindset in endemic phase" (ST, 8 Aug). (S'pore's Press Freedom Ranking 160th!)
The editor-at-large, Han Fook Kwang commented that credit should go to the government as the high vaccination rate of almost 70 per cent has enabled the country to move towards this possibility.
In this connection, it might be useful to compare Singapore to Israel which had been the first country in the world to fully vaccinate all its adult citizens more than 3 months ago. "Covid: Israel may be reaching herd immunity" (BBC, 14 Apr).
In a commentary, prominent Filipino doctor Anthony "Tony" C. Leachon explains how the Isreali leaders have pulled off the best planning in the world.
First their leadership understood "at the onset of the pandemic last year that the only way to beat a virus was through herd immunity, and that vaccination was key to expediting this process".
Next, the then Prime Minister of Israel Benjamin Netanyahu (who studied at both MIT and Harvard) used his connections at his alumnus to build a personal friendship with the CEOs of both Pfizer and Moderna.
As soon as Pfizer announced successful Phase 3 trials, his government "made a deal to pick up their first 8 million doses for twice the price of what Pfizer was eventually aiming to sell the vaccine".
As early as November 2020, Israel had already acquired the vaccines it required to immunize its people whilst the rest of the world was still suffering.
Whilst the price that Israel paid may seem expensive, it is no doubt miniscule compared to the extra medical costs of Covid. Also to put things in perspective, the economic costs from just three days of lockdown was more than the overpayment for all the vaccines they bought.
Whilst Singapore is also considered one of the more successful countries in terms of vaccination and infection rates, it must be noted that we had to undergo not only one "circuit breaker" but also another two "heightened alerts" as well, with more than $90 billion in the Covid-19 Budgets.
Finally, it should be noted that Temasek had huge investments in Pfizer. Despite this probable advantage, arguably, why is it that Singapore did not seemingly manage to, strategically manoeuvre to obtain a first mover advantage as Israel did, whose Ministers are earning one-tenth of ours.
Can we say that our 4G 'leaders' are worthy of their widely regarded to be, astronomical salaries?
Leong Sze Hian
14 Responses to "Israel's effectiveness in handling the pandemic puts our millionaire ministers to shame"
Leave a Reply
Scroll Down For More Interesting Stuff