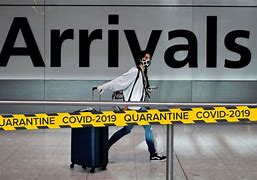 It is next to impossible to contain a pandemic with the current strategic actions taken by individual countries, including China. Unless and until the world used the ancient Chinese invention of water-tight bulkheads from stem to stern (siloed ship hull) model for containment of an epidemic, the next pandemic can cost billions of lives worldwide instead of mere millions.
The concept of air bubbles between 'safe' countries is an illusion. A truly safe country may be endangered by a pseudo safe country. To trust the official contagion record of a foreign 'safe' country is wishful thinking and an inevitable recipe for failure.
Each and every country during a pandemic must be a water-tight bulkhead acting as a guarded rampart, both to keep out foreign epidemics and keep in local ones. In this respect, globalisation must be fine-tuned.
We know that as a rule of thumb, in addition to the usual mask-up directive, a 14-day quarantine can be effective as a firebreak in a pandemic. The idea of instituting lockdowns is an attempt to contain epidemics within a silo. Unfortunately, most lockdowns are leaky in nature, either through a lack of official will or civilian ineptitude.
For the movement of people globally, it could be mandated that a 14-day quarantine period is required for people already vaccinated arriving into and departing from a country. Unvaccinated people must have a longer quarantine period of at least 21 days or more. Movement of people globally during a pandemic, officially declared by the WHO, must meet this reciprocal water-tight quarantined bulkheads requirement.
If the quarantine of arrivals from a particular country is showing unusual high incidences of infectee, it is not difficult to conclude, the 'leaky' quarantine of departees in the foreign country is systemic. This must be contained. All arrivals from the 'leaky' country must be banned.
It stands to reason that current airport designs must be modified to include both quarantined hospitals and hotels incorporated into it but separated from the main terminals. It is not necessary to mothball the main airport terminals during a pandemic. All arrivals and departures must be via separated arrival and departure 'hotels', for the mandated 14 or 21 days, as the case may be, after which they will use the airport terminals to fly out or clear customs and immigrations.
These quarantine hotels and hospitals must be specially designed. As an example, the open air corridors of Singapore HDB apartments is better than enclosed corridors favoured by private apartments. For greater safety, stop all lifts and mandate that movement within must be through open air corridors and stairwells.
This water-tight bulkheads quarantine model is the only viable solution to a global pandemic. Any other containment strategy is illusory at best and will be effectively a call to live with the ill effects of the pandemic: a perpetual hidden recurring cost of lost lives, wasted resources, money and time.
APolitical
15 Responses to "Water-Tight Bulkhead Quarantine Model"
Leave a Reply
Scroll Down For More Interesting Stuff