An interesting comparison between Palestine and Israel. Israel is the FIRST country which went into Mass Inoculation with Pfizer. It has one of the highest vaccination rate in the world. Its vaccination rate is nearing 70% while Palestine has less than 13% vaccination rate.
Pfizer vaccines started with all sorts of promises right from the start which technically, every biology student should know, cannot be fulfilled.
It is NOT possible to have any vaccine with long lasting efficacy for a RNA virus. Any so call expert worth his salt should know this simple fact very well.
The initial Public Propaganda about these vaccines could provide Herd Immunity is basically a blatant lie. This is especially so when we know right from the start, the vaccine could neither prevent infection nor transmission at all.
What is Worse, the controlled World Media was peddling a vaccine which was made using an untested technology with absolutely Zero track record, with a total lack of Long Term Data of safety and efficacy. This is supposed to be the "SAFE" MIRACLE vaccine to solve the Covid19 pandemic.
They continue to peddle these doubtful vaccines with new public narrative of prevention from serious illness and death without delving into the ever increasing glaring number of adverse events.
Short Term Adverse side effects may show up immediately but the most scary part is actually the hidden potential Long Term side effects which may only show up a couple of years later.
What we are witnessing in Israel is actually an extremely worrying sign. When its Covid Data is put side by side against Palestine, the contrast is just too glaring.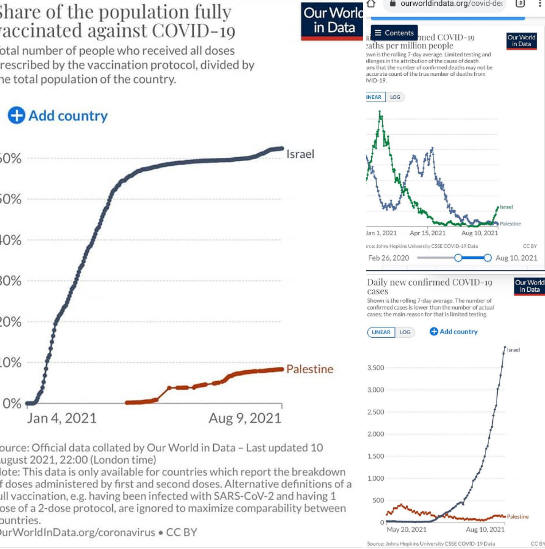 Israel is rich, equipped with very advanced healthcare system and high vaccination rate as compared to Palestine but it is suffering higher infection and death rate. Why?
The Vaccine must have failed for all the aspects they claim it could achieve.
Goh Meng Seng
14 Responses to "Vaccine failures"
Leave a Reply
Scroll Down For More Interesting Stuff