This is such an arrogant and silly thing to say. No one is saying Singaporeans need to be 'bubble wrapped'.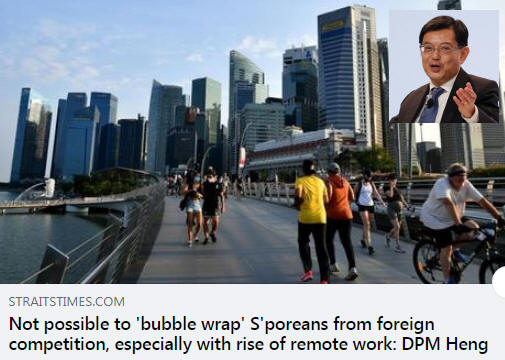 What Singaporeans are saying is that if you do not create legislation to allow Singaporeans with the skills to find relevant jobs in Singapore, then they will not have the opportunity to develop their ability, and build confidence.
If Singaporeans do not have the right skills, it also reflects the bad planning by the ruling party over the last 20 years to develop an education system to cater for these skills.
It is arrogant to claim Singaporeans want to be 'bubble wrapped' when we don't even protect the very spaces where Singaporeans should be able to find jobs. How many countries will take a Singaporean fresh out of college, if they are not able to build their skills in Singapore? How many countries will take a middle-aged Singaporean retrenched from his or her job because there is no job protection in Singapore?
Accusing Singaporeans of being 'bubble wrapped' is simply lazy. The reality is the PAP did not plan ahead, and was relying on imported cheap labor, thereby creating the social mess in Singapore, which it does not know how to deal with.
If anyone is 'bubble wrapped', it is the PAP politicians who have been living in their own bubble, that they do not know how to create policies to protect Singaporeans' livelihoods. It is these permanent private secretaries and military generals who have been handed their ministerial roles on a silver platter, and still expect others to come out with solutions for them. It's lazy.
Roy Ngerng
17 Responses to "Singaporeans need to be 'bubble wrapped'?"
Leave a Reply
Scroll Down For More Interesting Stuff