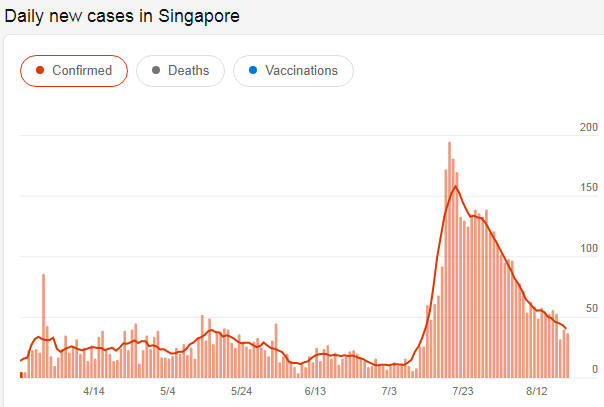 Let me give you a few key reasons and lets appraise together.
1. No sick no wear mask – underestimated the problem, abundance of masks from Taiwan, but told no need to send to Singapore.
2. Dorm spread – if they have been aware instead of complacency, 60,000 will be off the list, Singapore number will be very low.
3. Delta variant – told we need foreign workers, instead they let in dependent and short term passes, including KTV hostess.
4. Heighten Alert (HA) 2X – only clowns do this.
5. Burnt billions – still never solve any issues, not necessary to spend so much and solve nothing.
6. Businesses going bust – not much on rental rebate and 2 HAs caused a lot of businesses to shut.
7. Trace together – Not sure who designed, but surely one major inconvenience is that the battery will run out in 2-3 months and need to go back to RC or community centre. Should have included a CR battery design that user can change themselves! First world country, lousy design, not sure who is the clown who designed this crap! Until now clear benefits demonstrated in curbing spread.
8. Trying to impress – Instead of reflecting on their mistakes, they decide to find something to blow, "Most vaccinated country". Honestly, you can see they are not interested in solving issues, they only want award.
9. Living with Pandemic aka Endemic – Some countries already knew this
from the start and work on the transition. These politicians not paid
millions but seem to have better management. Here after spending
billions, they now tell you that they cant avoid and preparing to live
with the virus. Isn't this a joke?
10. Everything goes up during pandemic – Of all period, why now???!!!
Brothers and Sisters, do you agree?
Reboot
34 Responses to "Pandemic Assessment"
Leave a Reply
Scroll Down For More Interesting Stuff