HK University has done an animal testing on Pfizer mRna vaccine to understand the risk of heart injuries due to this injection.
HK University carries out this animal test after teenagers suffered heart issues (myocarditis) after taking Pfizer vaccines.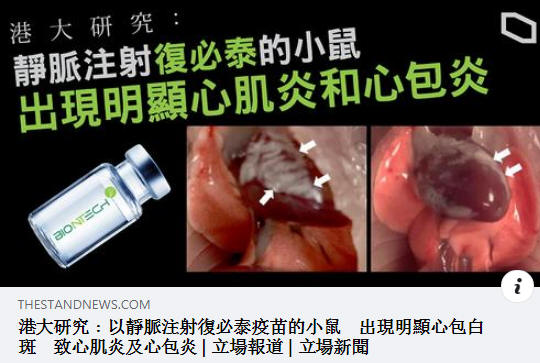 It has confirmed that if the injection is injected directly into blood vessel instead of muscles, the hearts of the rats have shown great damages.
It is believed that myocarditis or heart damage happened when the injection was accidentally done on fine blood vessels instead of muscles.
This is also a clear evidence that even for adults, if injection is not done properly, the vaccine might trigger heart damage or cardiac arrests!
Goh Meng Seng
6 Responses to "mRNA vaccine causes myocarditis…"
Leave a Reply
Scroll Down For More Interesting Stuff