The rain yesterday and another recent one caused massive and bad flooding across many areas in Singapore, namely, Chestnut Road, Dunearn Road, Upper Bukit Timah, Punggol, Tampines and Pasir Ris etc.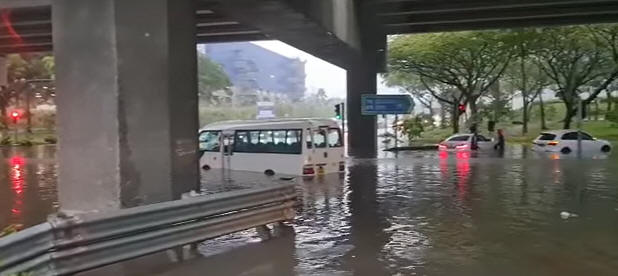 Over the years, Singapore has invested many hundreds of millions, maybe even billions of dollars to widen our monsoon drains and other measures to alleviate flooding etc and so I ask why, who, which, when, what and how happen to our seemingly more and more frequent and severe flooding?
Flooding imposes severe cost to our economy. Economic activities are affected, motorists and pedestrians on the roads face real and present danger and properties in flood prone areas face downwards price pressure etc.
Unlike China, Singapore is a very, very small place without high mountains and big rivers and for a very rich country like Singapore with our million dollars earning pap ministars in charge, I ask if they are not ashamed?
Younger Singaporeans may not know and understand enough and older, blind and hardcore sucking pap suckerporeans will not want to understand but if only we can continue to have a truly strong and competent political leadership in men like the late LKY, Goh Keng Swee and Hon Sui Sen etc in charge post LKY era, we can still continue to loudly proclaim to the world that everything works in Singapore, unfortunately, this pap government couldn't hide those floods and so many other of their screw-ups.
It is so sad to know that today, we merely have pap ministars who are without doubt, better educated and very senior former military officers but their education and their senior military ranks didn't translate into better governance standards for the benefit of the people or the country. To a large extend, their better education merely translates into fatter paychecks for themselves.
They are, to me, a bunch of can talk very well and know how to pay themselves very well but couldn't perform half as much pap ministars. It would be an insult to compare them to those very outstanding and selfless pap old guard ministers. I dare say that if the late MM were still around, many of them would have join the unemployed ranks.
Think.
Simon Lim
20 Responses to "Ponding"
Leave a Reply
Scroll Down For More Interesting Stuff