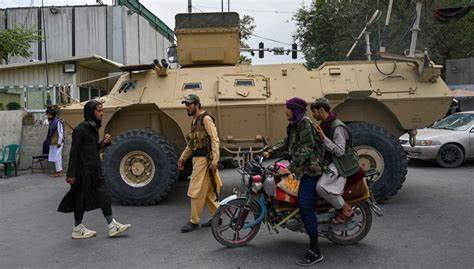 The outsize US Military will always be a "first option" for US international relations, and until that is addressed, there will be more pointless wars, I mean "interventions." Since 1898, US interventions have been justified with 'democracy defense' and military spending accounts for almost half of its' discretionary spending. It happened in Philippines, Puerto Rico, Cuba, Nicaragua, El Salvador, Haiti and Dominican Republic. It horrifically developed in Chile, Argentina and Vietnam. And it finally happened in Iraq and Afghanistan. They have never paid attention to the real conditions on the ground and how the population they intervene are impacted by the intervention. Arrogance is what have motivated the US to commit the same mistakes all over again. And finally the world can see its craziness. Afghanistan is the remnant of the arrogance of the 20th century. Let it be the last one.
Disengaging from Afghanistan was never going to be easy where religious fanatics eg: Al-Qaeda, ISIS-K, hiding in the rugged countryside re-emerge to try to control the country and drag its people back to a medieval caliphate. It is a fractious country; an amalgamation of tribal lords and tribal prefectures. No one 'fights for' the country; they 'fight with' a tribal lord. Fighters switch sides at the drop of a hat, based on which side offers the best opportunity for safety, gain, security. Just because the Taliban "won" today, it doesn't mean they will rule tomorrow. [LINK]
After President Biden condemned the terrorist attack and vowed to hunt down those responsible, the U.S. military carried out a drone strike on an Islamic State target in Afghanistan, the first retaliatory action following an attack at Kabul airport that killed 13 American service members and at least 170 other people. Taliban's recent takeover will also encourage Islamic fundamentalism and Islamic extremists worldwide. It'll, in turn, inflame religious extremism among other religious groups, many of whom are now having political connections in the USA, Myanmar, Sri Lanka, India, France, Germany, Australia/NZ, and Asean, etc.
Right now, even in their victory, the Taliban are extremely weak. If they want to govern the country effectively, they'll need all the financial, technical, and institutional means that define a functioning state. So their leaders are trying to blunt all hostility by putting out a face of moderation, goodwill and inclusivity through their statements. But let's note that the Taliban, a fundamentalist Islamic organization, could find a quiet and an easy theological justification for their use in its dealings with those opposed to it during its times of weakness and vulnerability. In orthodox Islam, all deceptive conduct by the believers that protects the faithful and weakens the enemy is a service to Allah and is thus a pious undertaking. It's called taqiyaah in Arabic. They still ascribes to Sunni Islamic fundamentalism and government through Shariah or Islamic law and nothing liberal about them for their use of media technology for PR purposes.
One of the Taliban pronouncements of the past week was the admonition that women should stay inside for a few weeks because their youngest fighters still hadn't been educated on how to treat women. Shouldn't humane treatment of women, men, girls and boys be fundamental in a civilized society? If the Taliban haven't already undertaken this lesson, if they don't have control over the most basic actions of their own people, how do they expect to govern an entire country?
A major source of money for Taliban is hefty donations from Gulf countries and many Muslims from across the world including western world (despite of strict international financial regulations.) These Taliban today are sitting on the throne of Kabul with complete help and complicity of Pakistan. America should have come into senses at the time when they found Bin Laden living under the protection of Pakistan military. They gave billions of dollars to Pakistan as economic aid but unfortunately it went mostly into the pockets of army officers or was spent on developing nuclear bombs. This was mostly due to intense rivalry between India and Pakistan on Kashmir dispute.
Now Pakistan do not need America as it has new friends China and Taliban government in Afghanistan which can be used against India to seize Kashmir. Let us see how the new game is played by Pakistan. Pak- taliban rise is a global headache now! As for India, it has seen the worst times thru when Pakistan and Taliban were together in 1996-2001 – Airplane hijackings, terror bombings. [LINK]
The United States—and its allies—have politically, socially, financially and militarily prepared Afghanistan to stand on its own. Much of the $2.6+ trillion spent by unaware Americans has lined the pockets of suppliers of arms, backers of the suppliers, and supporters of the suppliers. And let's not pretend that it is not a problem, a big problem with far-reaching implications. The answer is actually very simple. Wars are a big businesses for US. Interest groups are from Democrats and Republicans parties and get support from both sides.
I always believed that the so-called "war against terror" was an absurd propaganda exercise to help line the pockets of the military-industrial complex. What could be better than perpetual war? US now spend more on defense than the next 30 countries combined. Something is wrong with this picture. While instead China spends about a 1/3 of what US spend on the military, it is building super railroads, investing in artificial intelligence and advanced communications systems. Americans are in deep trouble and we can trace it back to the elites who dominate in D.C. Sadly, the military-industrial complex was and still is, a very hungry beast that needs constant feeding. Its tentacles reach deep into many facets of American society and business.
If your only tool is a hammer, all problems look like nails. Maybe our real problem starts with how our Govt. choose to spend our tax dollars. What's the old saying: "When all you have is a hammer, everything looks like a nail." Singapore's toolkit has just one blunt tool. No wonder we only have one way to solve every problem we see.
Sjorne Shen
8 Responses to "The March Of Folly"
Leave a Reply
Scroll Down For More Interesting Stuff