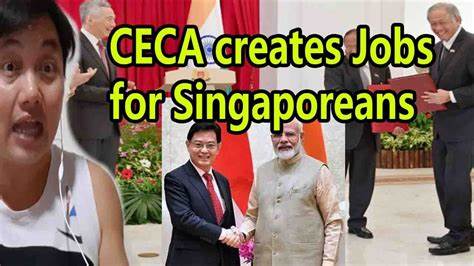 Again, the authorities are painting one side of the picture to mislead. This time, it got the MTI to do the dirty work.
It starts off stating authoritatively that there is "no provision under CECA for Indian nationals to become PRs and citizens". That's true and actually obvious because this agreement pertains to investment, not citizenship. But we all know that PMEs form the pool for future PRs and citizens, unlike Work Permit holders.
It then says that it is "not true that CECA requires the Singapore authorities to automatically grant employment passes to Indian PMEs who want to work here".
It gives the impression that Indian nationals are treated no differently from other nationals, but it is not true. All applications for Employment Passes must satisfy the minimum qualifying salaries as well as other standard requirements like educational qualification, employment offer from a company etc. So in that sense, approval is "not automatic", but it is again stating the obvious.
What they didn't say is that the Singapore authority is obligated under CECA to grant an Indian applicant an Employment Pass once he or she satisfies the various criteria, whereas, it has no such obligation for other nationals.
If the qualified Indian applicant is rejected, he can seek recourse via his government as provided under CECA.
Let me quote Article 9.3.1: "Each Party shall grant temporary entry to natural persons of other Party,…in accordance with this Chapter."
Unless I have a different understanding, "shall grant" means "must grant". And this include 127 different categories of professionals.
MTI goes on to say that "all companies must comply with rules on fair hiring".
Again, this is misleading because although all companies are subject to the Fair Consideration Framework, that requirement is not applicable if the applicant is an Indian national.
Let me quote Article 9.3.3: "Neither Party shall require labour market testing, economic needs testing or other procedures of similar effects as a condition for temporary entry in respect of natural persons upon whom the benefits of this Chapter are conferred."
Economic needs testing basically means the employer must ensure that there are no suitable locals before employing a foreigner, hence, MOM's Fair Consideration Framework. But Indians are exempted.
I stand corrected because the text in Free Trade Agreements is meant to obfuscate rather than clarify because if the public understands and realise that the odds are stacked against them in favour of businesses, they would be thumping their pitchforks in front of Parliament House, after all, FTAs are actually Investor Rights Agreements, rather than agreements about trade. Hope the authorities can clarify.
Foong Swee Fong
18 Responses to "No provision under CECA for Indian nationals to become PRs and citizens"
Leave a Reply
Scroll Down For More Interesting Stuff