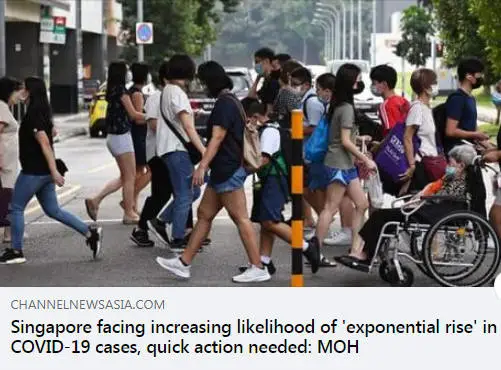 In the face of mutating C19 viruses and waning vaccine efficacy, we now know that even a full 2 doses vaccination offers little protection and little comfort.
Vaccine breakthrough is becoming more commonplace, viral loads between vaxed persons (VPs) and unvaxed persons (UPs) isn't much different and VPs can still be infected and infect others etc. So, what's next?
Singaporeans were told that we have to live with the endemic with stepped up testing protocols because life must go on, people need to eat and therefore, our economy must reopens. I ask if that is something that only pap ministars, generals and scholars understand? The answer is No.
With the gradual opening up of our economy, people have no choice but must accept certain level of inconveniences and risks but what actually happen when our infection numbers spike like yesterday's numbers, especially those unlinked cases?
Despite weeks of brave and clever talking, it was the pap MTF that blinked first. Yesterday, with rising infection numbers, Lawrence Wong promptly spoke about limiting socialising and not ruling out Heighten Alert again…I ask haven't we alearly abandoned our infection numbers strategy and instead retreat to our second line of defence strategy, ie, hospitalisation numbers, patients requiring oxygen supply numbers, ICU numbers and C19 related death numbers alearly?
When weak leaders are in-charge and weak leaders blink early in the face of enemy onslaught, their fears, their uneasiness, their lack of a nerve of steel, steadfastness and steadiness will betray them and their reactions and responses will cause even more fears, uncertainty and even panic among the people whom they lead. ( Please read this paragraph again).
Until our second defence line is clearly threatened, worthy leaders shouldn't blink because thousands upon thousands upon thousands of our people's livelihoods are at stake. How they respond or what they say either reinforce confidence level or rock confidence level.
Everybody must understand that our decision to open up instead of closing up with no timeline will involve costs and casualties that we must be prepared to accept. Period! ( Please read this paragraph again).
Think.
Simon Lim
46 Responses to "Even a full 2 doses vaccination offers little protection and little comfort"
Leave a Reply
Scroll Down For More Interesting Stuff