5,385 people were tested positive for covid during the past 28 days. This is an average of 192 cases a day.
Many people were worried that the infection is getting out of control.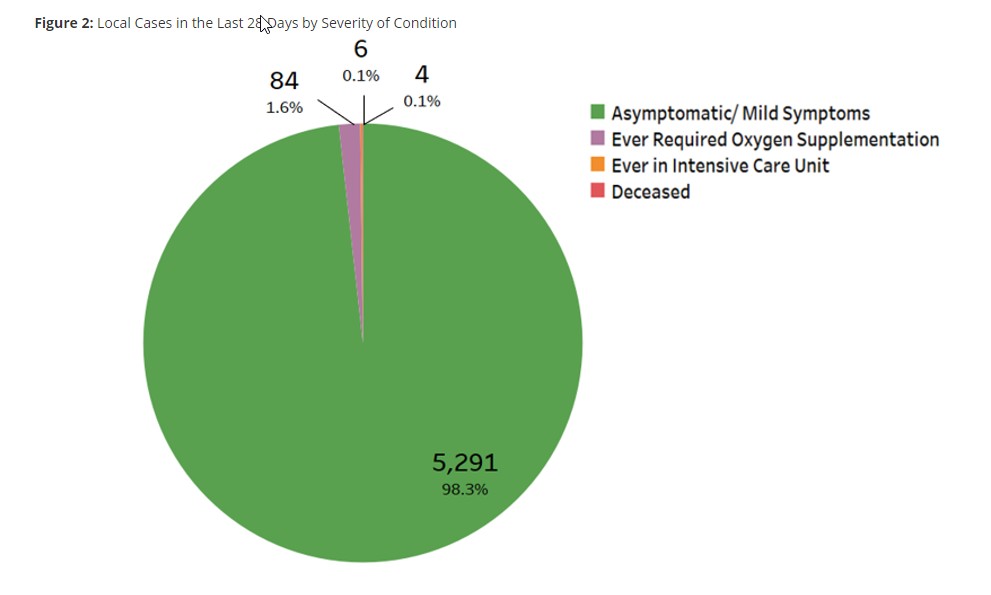 According to this table, 98.3% are mild. They are treated in the community care facility or general ward and are discharged after a few days, after being cleared from the virus.
94 patients progressed to severe illness (about 3 a day) that require oxygen or intensive care (ICU).
4 died. Most of these cases were people who have underlying medical condition, most of which are already severe. The covid accelerated their deaths. The other 6 in ICU may recover or some may die.
The death rate is extremely low. While our doctors do what they can to save the patients, there are situations where nothing can be done for patients who were already quite sick prior to contracting covid.
We can expect the number of deaths to rise over the next month, but the number will still remain quite low. Most of these cases are for people who were already suffering from severe medical conditions.
For the majority of the patients that contracted the virus and recovered, they would have achieved natural immunity. It would protect them against a future infection.
The government took the action to quarantine the residents of an entire HDB block or close a market for a few days when a few cases of infections were detected. This cause severe disruption to the business and livelihood of the people who were affected.
I find these actions to be excessive and an over-reaction to the risk.
I hope that these restrictions should be avoided.
I hope that we focus on the people who are sick and need to be hospitalized. This represents a small proportion of the infected people.
Tan Kin Lian
16 Responses to "Most infections are mild"
Leave a Reply
Scroll Down For More Interesting Stuff