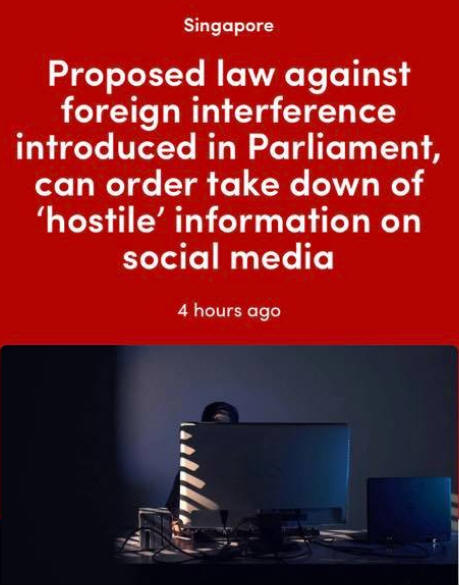 Foreign interference happens all the time, but does it have to lurk behind social media?
For example, if Uncle Sam thinks that Mr Heng can't hold the fort as PM, and may give in to democratic demands of Singaporeans to the detriment of American interests, does he have to covertly undermine Mr Heng by mounting a social media campaign? Don't be a bloody fool, he just picks up the phone and tells LHL so.
If XJP is pissed that Singapore is collaborating with Western forces to undermine China's sovereignty in the South China Sea, is he going to carry out a covert social media campaign to influence Singaporeans, and risk being exposed? Oh please! He just invites LHL for a state visit and and tells him his displeasure politely but firmly, and for good measure, confiscate a few Terrexes.
In terms of economic and military might, we are actually a small fry compared to many countries, and the government is not immune to being pushed around. Most foreign governments won't need to subtly influence Singaporeans via social media to push their agenda, they can talk directly to PM Lee, it is much more effective. I am not being sarcastic, but why waste time, resources and go underground when it can be done directly?
Some may say that foreign elements may want to destabilize our country by fanning racism and xenophobia on social media. But, whatever for? How does it benefit them? Is it effective and worth the effort? Are they that difficult to expose?
Who then is the proposed foreign interference law targeted at?
CNA says it is targeted at hostile information campaigns that seek to mislead Singaporeans on political issues, stir up dissent and disharmony by playing up controversial issues such as race and religion, or seek to undermine confidence and trust in public institutions.
The people who write strongly on social media against controversial political issues like vaccines, CECA, foreign talent policy, incompetence and hypocrisy of the government on social media are Singaporeans, not foreigners, for the simple reason that it affects them directly. Foreigners couldn't be bothered.
Compared to the toothless POFMA, the proposed law can bite – the state has the power to restrict circulation, take down the offending articles, fine or even jail the perpetrators.
Although, it ostensibly is called a law against foreign interference, the authorities can also target individuals or entities "if their activities are directed towards a political end", which is very broad.
If we want to talk about covert operations, then this law is it, because you can't tell the people directly to shut up as it is their right, so you have to go about it in a roundabout way. On the surface, it is targeted at foreigners, but in reality, its own citizens.
19 Responses to "Foreign interference"
Leave a Reply
Scroll Down For More Interesting Stuff