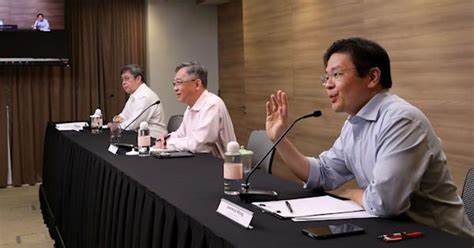 According to Ong YK, our MTF will not chase down every single C19 cases anymore but rather, going forward, we will open up our economy and live with C19.
I understand that Singapore, unlike many other much bigger countries with huge domestic demands, does not have much options to continue closing our economy in the face of a highly transmissible and still mutating C19 Delta variant. I fully understand that lives and livelihoods are at stake and the stakes are real and high.
I ask apart from more structured testings, more DIY testings, more vaccinations, more booster jabs, more freeing up ward and ICU beds and more suppressing of information such as not reporting unlinked cases anymore etc, what more can we, both the MTF and the people do to help facilitate a more acceptable and safer opening up of our economy?
I feel that our MTF has fallen short on a number of areas. I will name 2 of them.
1) It fails to step up serious enforcement efforts couple with effective punishments against people who gather in groups of say >3 or more chatting away, idling away or drinking away at night at some quiet hawker centres etc.
Although police cannot be everywhere but policecam are everywhere. Failure to take tough and effective actions against such people during a pandemic must send the wrong signal to them and thus, embolden them even further and it leads me to suspect that it is a deliberate decision by the authorities to turn a blind eye on them.
2) To live with the endemic will inevitably extract painful cost on our people in terms of human lives and more specifically, not just seniors' lives but also not so old people and even juniors' lives.
The MTF has fallen short again about preparing our people mentally to accept that and the C19 roulette could descend on any family, and if anybody does strike C19 jackpot, can they suck it up calmly, don't blame, don't cry and don't cry father and cry mother? If it comes to pass, we may even see 6 or 7 C19 deaths daily. I ask if our people are mentally geared up to accept such a harsh possibility?
Living with C19 is much more than uttering some battle cries, saying some brave words and putting on some brave fronts. If living with C19 is the way going forward, then preparing our people, the ground adequately is very, very necessary and it shouldn't be delayed.
Think.
Simon Lim
15 Responses to "MTF has fallen short on a number of areas"
Leave a Reply
Scroll Down For More Interesting Stuff