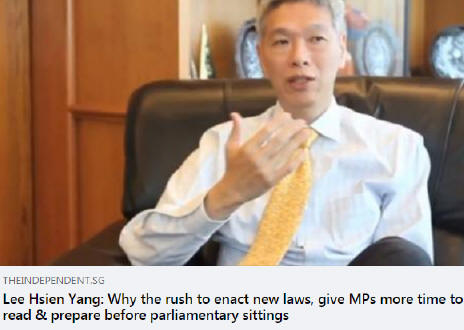 I agree totally with Lee Hsien Yang that this massive 249 page Bill should not be rammed through on 4 October without a lot more consideration and debate.
Why the hurry? The GE is a Long way off! This Bill is not an urgent Bill.
I shall be scrutinising the Bill carefully and giving my thoughts on it very shortly.
To me the greatest danger to our Nation is not any foreign interference of which the PAP is already liberally allowing through the likes of a Polish national, who calls himself Critical Spectator, because he is often singing praises about them.
The greatest threat to our Nation is actually FICA,as I shall explain. Many of the provisions have no place in a democratic society where the emphasis is on the Rule of Law.
Simon Lim
19 Responses to "It Is Ridiculous That The PAP Wants To Pass FICA on 4 October"
Leave a Reply
Scroll Down For More Interesting Stuff