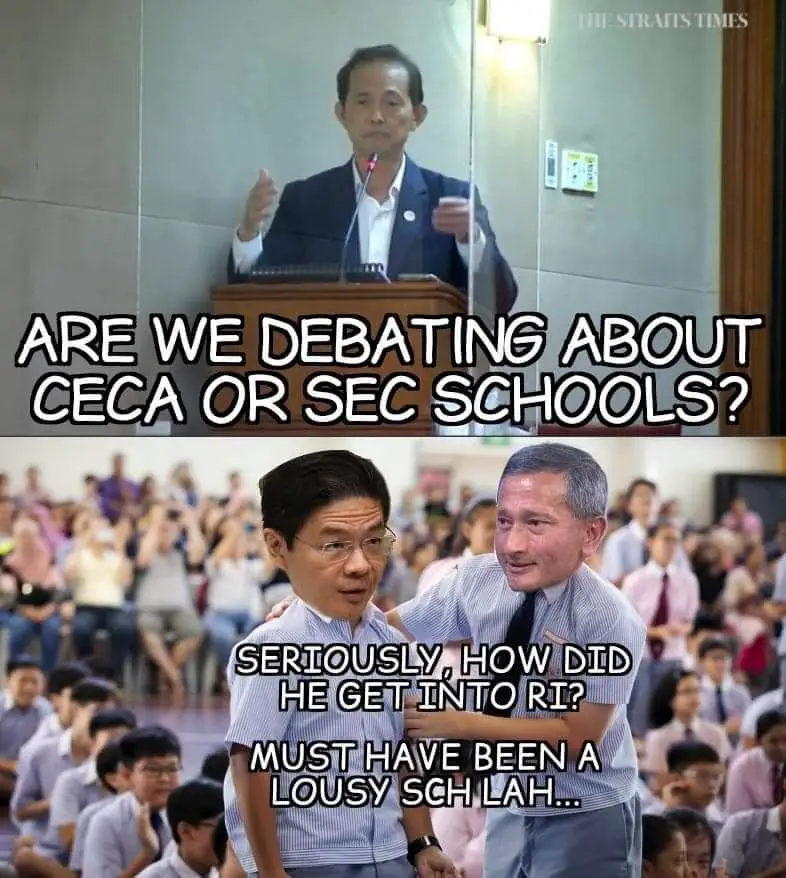 "Lousy school" (like RI) means different things now, compared to the past?
(ST, Oct 10) "Generational difference in views of Singapore top schools and their students"
"At the Sept 14 session, a microphone picked up comments by Foreign Minister Vivian Balakrishnan, calling Progress Singapore Party Non-Constituency MP Leong Mun Wai "illiterate" and questioning how Mr Leong got into the prestigious Raffles Institution (RI), and ribbing that RI must have been a "lousy school" . Dr Balakrishnan is an alumnus of the rival Anglo-Chinese School (ACS).
Generational difference on academic elitism
Then I realise why. There is a generational difference when it comes to perceptions of academic elitism.
When older Singaporeans like Dr Balakrishnan speak of their days in school or their academic achievements, they may be thinking of a time when life seemed to offer a more even playing field.
Many of their generation who went to "good" schools here, and then had university degrees and good careers, would have come from diverse backgrounds – including middle-class and working-class backgrounds. Children of hawkers, taxi drivers and labourers are today lawyers, doctors, bankers, and top civil servants and politicians.
However, many younger Singaporeans have a different experience.
Growing up in the early 2010s and going to a "good" school with the Integrated Programme, my class and cohort looked nothing like the mix of social and economic backgrounds that my relative and others have described. Most of my classmates were, like myself, the children of professionals and university graduates. We had books at home, parents who could understand and help with our homework, provide access to a stable Internet connection and put food on the table. These sound like basics to some, but they are not.
So when people throw around language that seems to suggest that the worth of a person is tagged to their school, it rings increasingly like a comment on class rather than educational achievement to me and others around my age.
They may not have meant it as such, but my gut reaction of outrage at such comments speaks to a generational difference in how merit is perceived.
To me, hearing that someone has gone to a "good school" is more often than not a comment on the person being from a wealthy family with good social connections, than a statement on the person being intelligent and hardworking.
Schools have fundamentally changed in terms of their social make-up, and it is no longer accurate to casually equate going to a good school or doing well in school only with intellectual talent. In my experience, family economic and social background is increasingly correlated with going to "good schools".
If this becomes more of a trend, our society will be worse off for it.
Understanding the issue
Social stratification in the school system should be an issue that is addressed and studied, and that begins with schools acknowledging it and beginning to publish socio-economic data on their admissions, to help ensure that Singapore's meritocracy remains one.
In 2015, then principal of RI Chan Poh Meng said in a founder's day speech that the school had become insular and not truly representative of Singapore, and catered to students from the upper class of Singapore's society. He used this as a platform to ask his students to give back to the wider community.
Top schools and universities here, such as the National University of Singapore and Nanyang Technological University, do not publish admission data by social-economic status and race.
This is unlike some top universities in the West, which publish granular details on where their students come from based on area, ethnicity and socio-economic background. For example, the University of Oxford publishes data based on two systems of sorting the financial backgrounds of students by postal code. It then measures this against the United Kingdom average.
When asked by the media, local universities are often reluctant or unable to provide us with these numbers."
Comment:
In this connection, here's an article I wrote on 31 Oct 2018:
Why no statistics on scholarships awarded – inequality?
I refer to the article "Public Service Commission to explore new tools to select more diverse slate of scholarship holders" (Straits Times, Oct 31).
It states that "Singapore's Public Service Commission (PSC) will explore new tools to ensure that it awards its prestigious scholarship to a more diverse range of students.
In an open letter released on Wednesday (Oct 31), PSC chairman Lee Tzu Yang set out the importance of diversity in the public service and how the move is part of the commission's ongoing efforts to cast its net wide for Singaporeans from all backgrounds.
For example, he said, many organisations today use game-based assessments to assess candidates for attributes such as perseverance, learning orientation and risk-avoidance."
All these sounds very good, but shouldn't the PSC start by giving us some statistics?
Are we giving too many scholarships to richer students?
In this connection, I would like to refer to the article "Making a Mockery of Meritocracy" (The Independent, Jan 6).
It states that "Over the years, how many government scholarships have been gifted to children of those at the top echelons of government and public service? For every one that is given out, another deserving Singaporean loses out – and that Singaporean could be in dire need of a scholarship because he or she comes from a not-well-to-do family."
In this connection, I believe that the last time that arguably – a very comprehensive analysis and commentary on the "meritocracy" of awarding scholarships, was published was in 2008.
There were media reports then, about the break-down of scholarship awardees who stay in HDB and private property.
I would like to suggest again that the percentage of scholars from HDB flats be further broken down to the different flat types, i.e. 1 – 2 room, 3-room, 4-room, and 5-room and bigger. Since the private property data was broken down to landed and condominiums, why not the HDB data ?
I understand that the statistics last reported in the media was that more than 60 per cent of scholars come from HDB 5-room and bigger, and private property.
According to the Department of Statistics' (DOS) 2008 Yearbook of Statistics, 69 per cent of HDB flats were 4-room and smaller.
Since more than 80 per cent of residential dwelling units are HDB flats, the proportion of scholars from private property is disproportionately high.
Even the proportion of landed property at 26 per cent is disproportionately higher, compared to the 27 per cent for private non-landed property, as only 29 per cent of all private property are landed.
Another way of looking at it may be that students from private property have about a two times higher chance of getting a scholarship, and those from HDB 5-room and bigger about a one and a half times higher chance.
In this regard, even those in landed property have about a two times higher chance than non-landed.
Clearly, at least from a statistical perspective, the odds may be stacked against HDB 4-roomers and smaller.
What is perhaps an even more important statistic is the breakdown of the household and per capita income.
The type of residential dwelling may not necessarily reflect the financial need and affordability of the scholarship applicant.
If this trend continues, it may lead to a further widening of the income gap. Singapore's GINI co-efficient has been deteriorating over the years, and is now near to historical highs.
Route out of poverty
Throughout history, I believe the most common route out of poverty has been education.
Whilst there is nothing wrong with awarding scholarships primarily on academic achievement, the current selection criteria and system may be further skewed against lower-income households, as their children may have less in the areas of co-curricular activities, leadership track record, etc, because of their limited financial resources.
This may further stack the odds against the lower-income, who have less resources to access tuition, enrichment programmes, learning aids, etc.
In countries like the United States, many scholarships are awarded based on financial need. Those who can afford get less money, and those who are rich are given a Honour Scholarship, i.e. in name only without money.
I support Mr Philip Yeo's remarks about his preference to give scholarships to the lower income. Anecdotal evidence seems to suggest that most bond breakers come from more affluent families.
So, the perennial problem and increasing trend of more people breaking bonds may be diminished if more scholarships go to the less affluent.
As to the remarks that the family background of applicants are not taken into account, I would like to ask whether the selection panel are able to see such information. If so, I think those involved in the selection and interview process should not be allowed to see such information.
The issue of elitism in Singapore has been much debated in the media. Let's try to do something more about it, in the true spirit of one of the five stars of our national flag, which represents equality for all."
(Note: I from RI (Illiterate), A Level B, E, sub sub!)
Leong Sze Hian
9 Responses to "'Lousy School' like Raffles Institution"
Leave a Reply
Scroll Down For More Interesting Stuff